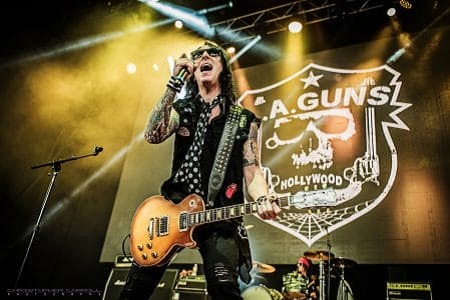 INTERVIEW WITH KURT FROHLICH. Interview by MIKE MATTY.


Melody Lane had a great interview with Kurt Frohlich, singer and rhythm guitarist of the sleaze/street rock legends L.A. Guns (feat. Steve Riley and Kelly Nickels).
Kurt, that back in the days also fronted BRENT MUSCAT'S FASTER PUSSYCAT, told us about the roots of his career, how he got the job as L.A. GUNS singer and very interesting  stories about 'RENEGADES', the new L.A. GUNS album that will be released in the next future via GOLDEN ROBOT RECORDS.
Interview not to be missed!
MELODY LANE: Hi Kurt…just to start: can you tell us anything about the beginning of your career?
KURT FROHLICH: In the beginning  I was in a band called THE LOVING DEAD and at the time we were based in Vancouver, Canada. Then we got a management deal which moved us to Las Vegas in 1999 and we changed the name of the band in THE UNDERGROUND REBELS.  In the last years  I moved to Orlando area but the other guys remained in Vegas. Working out here,  and I' m getting established  here in Florida so  THE UNDERGROUND REBELS  hasn't  been doing anything for the last four or five years.
MELODY LANE: …And  BRENT MUSCAT ,guitarist of the legendary sleaze band FASTER PUSSYCAT, was  in THE UNDERGROUND REBELS  with you right? And  you  fronted  FASTER PUSSYCAT back in 2006/07?
KURT FROHLICH: Yes, BRENT was putting  together a FASTER PUSSYCAT anniversary tour. He tried, but not all the original members said yes . TAIME DOWN was not interested in because he had his things going, so BRENT asked me to join the band and I got TODD KERNS on board playing guitar. TODD had did a few gigs with us in THE UNDERGROUND REBELS  for a while till he started doing the SIN CITY SINNERS and then He got in SLASH's band. In the end we are all intertwined…It's a small town…
MELODY LANE: The most obvious question: how did you get the job as L.A.GUNS singer?
KURT FROHLICH: I was in Las Vegas and I got a text message from my friend Jason (Jason Green, manager of Las Vegas band The Sin City Sinners which included Todd Kerns from Slash's band and Brent Muscat), he said that L.A.GUNS were looking for a singer and if I could be interested in…But at the time…I didn't know;  I was writing music and playing full time as a musician but then… Steve Riley gave me a call. He checked me out online and talked to other musicians I 'd worked with in Los Angeles and Las Vegas, I think he did his homework on me and checked a lot of YouTube videos…And you know, Phil Lewis' voice is very different from mine, and I sing like me, but Steve said "We want you to be you!". What pushed me to accept was thinking about a few things like: I 've always been a huge fan of L.A.GUNS… they didn't  want to go on tour full time (because I didn't want to tour full time, I didn't wanna  get in a van and go away for three months)…I loved their songs… and then the fact that KELLY NICKELS was on board, that was the 'deal closing' for me;  the fact that he's got in. You know…It wasn't just  the drummer, you know what I mean…
MELODY LANE:  And it was just for 'one show' right… M3 Festival?
KURT FROHLICH: Yes it started just as one show of 45 minutes, ten songs. And we didn't really rehearse. They flew me out to L.A. and it was a kind of audition . The first day we went through the songs and they wanted to see what kind of guitar player I was and we played through the songs musically and they said: "Ok we are not worried about your guitar playing"…I normally play rhythm guitar. So I put the guitar down and just sang and they could really hear me sing and they thought it was great. The next day we kinda went through the set a couple of times, maybe twice, and then we just showed up at the M3 Festival…
MELODY LANE: And then…After the show…?
KURT FROHLICH: It was great fun, a cool show and we all went home. And all of a sudden the phone started ringing. Steve Riley got calls from managements to agents and then GOLDEN ROBOT RECORDS offered us a deal through our manager Eric Baker and they put stuff together…And then they called me  and said " We wanna do a full length record"…We all put the material, we all submitted songs, for two or three months we picked the songs we wanted, I did some pre-production here in my home studio, we did as much homework as we could …
MELODY LANE: So I think..it's not that easy, for a new line-up, to write an album in this way: scattered about the country…
KURT FROHLICH: Oh yes…I live in Florida, KELLY  lives in NEW YORK, SCOTT lives in Las Vegas and STEVE lives in Los Angeles, all completely different areas of the country.  So we all submitted stuff via Dropbox…things like this…And we could download ideas and listen songs and we really listened to a lot of material and demos that we all previously had. And we nailed down about twelve songs or so…And within a couple of months we all went to school, worked on the material, we learned the songs, we came up with ideas and made the songs better  and then we flew to Los Angeles for ten days. We were only in Los Angeles for ten days. We did three days of pre-production, we rehearsed the songs to make them better and then we went to the studio for seven days and we played the songs live in a room together, so we can have eye-contact and really get a vibe from the songs and we played through like eleven or twelve songs and then we nailed down the ten songs…So that's how it happened, it was ten days from morning to night. So it was really hard work but I think that the vibe of the album it's really cool, just like Led Zeppelin made their first record and Black Sabbath made their first records, it was like playing through the stuff, don't over-produce it, don't over-mix it, and I think you can hear that energy in the album.The new songs they are perfect for a live performance because they are not over-produced, they are just  balls-out guitars, drums and bass and that's great, really cool! What we kept in mind recording the songs was keeping an eye on what L.A.GUNS is, what  L.A.GUNS sound is, and we really focused on that because L.A.GUNS fans want to hear an L.A.GUNS album.
MELODY LANE: So can we talk about a real 'team  work'?… Was it the same for the lyrics? 
KURT FROHLICH: Some of the songs were written from scratch… and then …Kelly wrote a couple of great rock 'n' roll songs, one of these is CRAWL, the single that's out now. Kelly has a knack for songwriting, he wrote a lot of stuff on first three L.A. GUNS records, he's really part of the L.A.GUNS sound. He's a great song-writer. He came up with his songs, Scotty had his stuff and I sent them  finished songs that I previously had that were already done and then we made them kind of our own, everyone added their flavor to each with their own instruments and vocals and whatever … and we built on it. We went everywhere from Kelly sending me stuff to my computer…so many  ideas and we all just started collaborating, all this material  going back and forth on the net ; it was all real  'joint energy '. For what concerns the lyrics…most of the lyrics came from the people that brought in their songs. We may have edited a verse or edited a section, but primarily when we brought in songs, at least half of the lyrics were usually done. Everyone was so cool about it, there was no ego, there was  not  "This is my song…I wanna like this!", it was not like that at all.
MELODY LANE: Did you only sing or you played guitar on the album?
KURT FROHLICH: Oh yes I played rhythm guitar mostly and I played one solo on the album…
MELODY LANE: Will there be any 'special  guest' on the album?
KURT FROHLICH: No, it was just the four of us.
MELODY LANE:  So before the pandemic, were you putting the final touches to the album? And who's the producer?
KURT FROHLICH: No, the album is finished, mixed, mastered,  everything done. Steve Riley's  the producer  on this record. He put the things together. Steve worked with a lot of big producers in his days, so he really has ear for things and has knowledge of where things should go…I learned a lot from him.
MELODY LANE: Have you already a date for the release?
KURT FROHLICH: We planned in order of single release, video release, album release, first show, shows…it was all in the works but everything 's been pushed back
MELODY LANE: What about the tour schedule?
KURT FROHLICH: All the dates we had so far were all US dates. Mainly Festivals and some opening slots, we are doing big shows, we are not doing small club dates. We want to get on the bigger shows, we want to play to bigger crowds . But everything is postponed. We had shows lined-up in April, we were ready to go to these shows in New Jersey and Connecticut…And that's when stuff started getting really bad in New York. That's where our first run of shows  were, in the New York area.
MELODY LANE: Will you keep on playing rhythm guitar on stage? Have you had problems in singing the old L.A. GUNS classics  while playing guitar?  
KURT FROHLICH: L.A. GUNS is a band like those bands that I love that I've grown up with, two-guitars bands , like Kiss you know;  two separate guitar parts just make it big. I think L.A. GUNS need a second guitar. And it's not really a problem to sing L.A. GUNS songs while playing, it's just about practice, the coordination of singing and playing…I definitively had to work on some parts, practicing, repeat them over and over,  but playing and singing I've done it my entire life… so… no problem.
MELODY LANE: And as a singer…talking about the old stuff…Are there any songs that you've found hard to sing?
KURT FROHLICH: Oh there are some songs that are sung high a lot, not just a couple of notes but  the entire song. There are a couple of songs from the first record, ONE MORE REASON and NO MERCY… Ah it's really not a joke to sing that stuff!  Even THE BALLAD OF JANE has high moments, but we do what we can to keep it in the style and keep the melody great…
MELODY LANE: Thinking back to the M3 FESTIVAL…I think a lot of pressure was on you, were you nervous back then?
KURT FROHLICH: The thing that was in my head was that obviously it was the first show. So everyone was watching, it's like to be under a microscope. But it's rock'n'roll  to me, man. You can't over analyze rock 'n' roll; if it feels good and it sounds good, that's cool with me. I'm not trying to imitate anybody, I just gotta be me, sing  how I sing. I can always get better, trying to reach higher  notes and  I still take vocals lessons. I'm always trying to keep my voice in shape,especially now that I've not been singing for the last two moths…and yes I'm always trying to get better…
MELODY LANE: CRAWL, the first single…because it was the first song finished or you wanted just it to be the first song out…?
KURT FROHLICH: Well… all the songs were finished at the same time and submitted to the management and to the label…So the first single CRAWL was picked between by the band obviously and our management and label; they are our team that's really focusing on the timeline of how we gonna do everything. I think CRAWL was picked because it 's got a cool vibe and  it's got that sleaze kinda  L.A.GUNS  feel, so… it was a natural choice. The album has more than one single on it; the album is solid.
MELODY LANE: Talking about your label GOLDEN ROBOT RECORDS, they have in their roster  (ex-GUNS 'N' ROSES) GILBY CLARKE, DIZZY REED (GUNS 'N' ROSES keyboards player), LITTLE CAESAR, ROSE TATTOO…so they are really into classic hard rock…
KURT FROHLICH: I don't know if they are primarily a Rock label but they got their finger  on the pulse of what it's going on in the rock'n'roll world… so we decided to work with them…I think GOLDEN ROBOT RECORDS is doing great, they are really excited about the record and they said to Steve Riley that ,at the time, they had troubles picking the single because they think there's more than one single on the record and  so…that's a good problem that they had…
MELODY LANE: Talking about Steve Riley…" The only guy who never quit". Tell us something about him… 
KURT FROHLICH: Steve Riley runs the band, of course it's a democracy but he's the leader. Eric Baker is our manager but Steve runs the band, he puts everything  together. It's a lot of work running a band, it's a pain in the ass, I've done it with my many other bands and it's not fun…He communicates with the agents,  he communicates with the booking agencies, he deals with everything, he deals with getting people flights in and out of everywhere…so yes…he really does a lot of work;  but when stuff comes up with deciding about other things like, for example, the single...Steve takes everybody's influence;  it's just a democracy, it's not a dictatorship. Steve's got a good business sense too and he's definitively a good guy. It's great to work with him and if it wasn't enjoyable we wouldn't do it.
MELODY LANE: Tell us something about your main influences as a fan and as a musician…
KURT FROHLICH: Well…I think I picked up the guitar because of Pete Townsend…He is the main reason I picked up the guitar… and then I'd say KISS... I got my first KISS record when I was six years old and I loved the music, the visual…I loved everything. As far as writing, "the more hooks the better"…There was a band in the nineties called THE MARVELOUS 3 that influenced me, and then I've always loved bands that got hooks and melody but still being hard, just like L.A.GUNS and  FASTER PUSSYCAT… and they got a great style. That's the kind of stuff that influenced me…
MELODY LANE: So, apart from L.A. GUNS, have you  got other projects?
KURT FROHLICH: Well I'm a full time musician…I play full time. I play like five or six days a week  when I'm not playing with L.A.GUNS. I play with a cover band that's called THE HOOLIGANS and we play British Rock, stuff like BOWIE or THE SWEET. Now due to the quarantine, we've started writing our material, we'd like to put our record out but at the moment all the stuff is in the Dropbox, because we can't be in the same room together. 
Sometimes  I do also acoustic or solo shows but just once in a while, I don't do a lot of them. Anyway I'm a full-time musician that's all that I do.
MELODY LANE: Ok KURT, thank you for your time with us. A message to all MELODY LANE readers and followers…
KURT FROHLICH: Thank you guys, keep safe and hope to see you out there on the road very soon!