INTERVIEW
WITH
BLENDED
BREW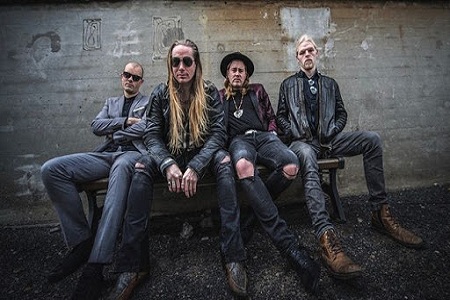 INTERVIEW  WITH 

LORD SEBASTIAN
 interview by MIKE MATTY
MELODY LANE had an interview with the Danish vintage rock'n'roll fanatics BLENDED BREW! A great band highly recommended to fans of DEEP PURPLE, RIVAL SONS and AC/DC. Their new album SHOVE IT DOWN 's been released on May 1st by label MIGHTY MUSIC. "...

We are a hybrid of many decades of rock music, so it's hard to put our sound in a specific box..."
MELODY LANE: First of all, also if it can sound a bit expected…Can you tell us where does the name BLENDED BREW come from?  
LORD SEBASTIAN: Back in 2009, we were, at the time, a 5 piece band, with individually different music tastes, and that's how we came up with the name Blended Brew, because we wanted it to represent the blend of our differences regarding the music, and how it can work together.
MELODY LANE: The line-up of the band is confirmed, is it the same from the beginning of the band…or have you had changes in the last years? Can you tell us something about the roots of BLENDED BREW? And where the band was born?
LORD SEBASTIAN: In the last 4 years, we changed our drummer , bass player and our lead guitar quit, so out of the original line up we have Jimmy Månsson (lead singer/guitar) and Lord Sebastian (organ). Blended Brew was born in a little town in Denmark, called Glumsø.
MELODY LANE: Can you list us 5 songs, from BLENDED BREW discography (including new material), that can define the sound of the band … 5 songs that can help our readers to know BLENDED BREW at the best. 
LORD SEBASTIAN: Shove it Down,Stay in the Shadow, If the Streets Could Talk, More wants More and Open Ocean

MELODY LANE: Tell us something about the creative process of your music. Is there a main composer or we can talk about a team work? The songs come from ideas of a single member and then the band works on these ideas in the studio jamming together, or your songs are written in the studio and all the members compose together?
LORD SEBASTIAN: The creative process for this album has been mix of ideas from each member, if it was a whole song, a basic riff, drum rhythm or actual lyrics. Every song on the album was done in our own rehearsal room/studio with pre-production recordings before going into Heyman Studios.
MELODY LANE: Who writes lyrics and words in BLENDED BREW? Can you tell us something about contents and messages of the lyrics of your songs?
LORD SEBASTIAN: Everyone writes lyrics in the band because each member has a 'voice' and saying. Our lyrics are mostly day life stories and are inspired by different events and happenings around us. We like to write them poetically so each song, or a story, can have more than one meaning. In that way the listeners can interpret the lyrics in their own way and connect their own story to it. 
MELODY LANE:  After time, are you totally satisfied with your choices about sound and the writing of your debut album Hand Patrones? If you could… would you change anything? 
LORD SEBASTIAN: We are totally satisfied with our debut album 'Hand Patrones '. We did our best with what we knew at the time. Looking back at it now, yeah sure, we could have done something different, but isn't that just how life is?
MELODY LANE:  So apart from the codid/pandemic situation…will you tour in the next future? Have you already a touring schedule? Any chance for us to see BLENDED BREW  playing live here in Italy in the next months/year?
LORD SEBASTIAN: We don't have any tours in the near future, everything has been cancelled or rescheduled. We are hoping to go back on the road as soon as possible, but we can't tell anything for sure right now. Italy is definitely a preferred destination for us.
MELODY LANE: Could you tell us two bands, from the actual international scene, you'd like BLENDED BREW  to tour with?... Two bands that would represent a perfect line-up for BLENDED BREW  to play with. And why these bands?
LORD SEBASTIAN: AC/DC and Rage against the Machine, because of their energetic life performance,which is very similar  to ours in many ways.
MELODY LANE: We know that 'to define is to limit'… but how do you define BLENDED BREW sound? Are you an Hard Rock band…a Vintage Rock band… A 70's Rock band Or…?
LORD SEBASTIAN: We are a hybrid of many decades of rock music, so it's hard to put our sound in a specific box.
MELODY LANE: Which musicians are/have been your main musical inspirations? And which are your favorite bands nowadays?
LORD SEBASTIAN: Our biggest inspirations are Paul McCartney, Little Richard, Angus Young, Lemmy, Dave Grohl etc. Our favourite bands are AC/DC, Rival Sons, Deep Purple and so on, we have many.
MELODY LANE: If I'm not wrong, in the past you supported the great MARCO MENDOZA with his power-trio. We got great interview and live photo galleries with MENDOZA; he and his old bands are really loved by our readers and followers. Can you tell us anything about the dates with him?
LORD SEBASTIAN: We had a great time with Marco, it was nice to get to know him personally. It was a new experience and we have many good memories from it.
MELODY LANE: As a musician, what has been your biggest achievement to date and what do you want to achieve in the near future? 
LORD SEBASTIAN: Our biggest achievement as a band has been supporting AC/DC and going on our own headliner tour in China. We want to get more gigs and touring around the world.
MELODY LANE: In the end…A message from you to all MELODY LANE readers.
LORD SEBASTIAN: We encourage everyone to go check out Blended Brew if you are into swaggy rock'n'roll. Thank you for having us in your magazine.