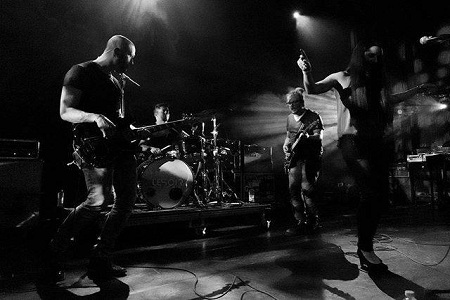 INTERVIEW WITH INGO DASSEN 
intervista di Daniele Pietrini
MELODY LANE had a great interview with INGO DASSEN, guitarist and main composer of the dutch 'art rock ' band LESOIR. 
"... we think we are an artrock band, as we are not thát progressive as you would maybe expect from a typic progband.  We are a bit on the softer side in the genre I guess… dynamic, filmic… come and/or listen and find out for yourself!..."
LESOIR will be the special guest for the European tour of the prog masters RIVERSIDE and will be in Italy for two dates:
16 and 17 March in Rome and Milan... Don't miss them!
MELODY LANE: First of all, also if it can sound a bit expected…Can you tell us where does the name LESOIR come from? 
Ingo Dassen: When we recorded our first album, we felt our music fits the evening vibe of a big metropole (Brussels at that time). Le Soir is French for the evening. We just glued the two words together and this actually means nothing ;-) 
MELODY LANE: The line-up of the band is confirmed, is it the same from the beginning of the band…or have you had changes in the last years? Can you tell us something about the roots of LESOIR? And where the band was born?
Ingo Dassen: Lesoir is a band from Maastricht, NL. Formed in 2009. We had some changes in our rhythm section over the years. But the core of the band stayed the same over the years and were already playing together since 2002 in various formations and band names. We are in fact a highschool band that slowly transformed into what we now proudly call Lesoir.
MELODY LANE: Can you list us 5 songs, from LESOIR discography (including new material), that can define the sound of the band … 5 songs that can help our readers to know LESOIR at the best.
Ingo Dassen: We made 4 albums, every album is unique, and we always play a mix of those albums live. It's hard to choose because of the evolvement overthe years we've been through. At the moment, the most defining songs of Lesoir are on our last two albums Luctor Et Emergo and Latitude. To pick a few songs for Melody Lane readers to get to know 'todays' Lesoir, we would recommend 'Gone and Forgotten', 'Edens garden', Going home', 'Faith is' and 'Single-eyed'. But we must emphasize that listening to our albums in total are the best way to get to know our music, with a nice beer of a good whisky on the side haha.
MELODY LANE: Tell us something about the creative process of your music. Is there a main composer or we can talk about a team work? The songs come from ideas of a single member and then the band works on these ideas in the studio jamming together, or your songs are written in the studio and all the members compose together.
 Ingo Dassen: Ingo Dassen is the main composer of the songs. We first write the instrumentals and vocals are added in the finishing stage of each song. Although Ingo has the musical ideas and writes the music, each member is important to give the song the right Lesoir vibe. So all musicians are important in the sound of the end product.
MELODY LANE: Who writes lyrics and words in LESOIR? Can you tell us something about contents and messages of the lyrics of your songs?
Ingo Dassen: Maartje, the singer, writes the lyrics. The writing process, and with this the subjects she writes about, depends strongly on how she feels or what's on her mind in a writing period. Those periods are always compact in time, and that's why songs on one album are sometimes related in subject or emotional vibe. The lyrics are the glue that bind instrumentals together; for instance on Latitude, where all songs refer to a certain topic in a time when there was a lot going on in Europe and the world regardingf.i. refugees and terrorist attacks in 2015 and 2016. Lyric wise Latitude is a concept album because of that. But basically it was what Maartje kept busy and her way of expressing herself. Actually, a very human thing to do, and feelings that everyone can have going through certain life periods.
MELODY LANE:  After time, are you totally satisfied with your choices about sound and the writing of your old albums? If you could… would you change anything?
 Ingo Dassen: Albums are momentums and we are proud of each creation, as you get older as a bad, your writing gets more mature, but the fundament is still the same, and the energy too.
MELODY LANE:  Apart from the dates you're doing around Europe with RIVERSIDE, any chance for us to see LESOIR playing live here again in Italy in the next months/year? Maybe summer festivals?
Ingo Dassen: We would love that! Last time we played Itally was in 2015 together with Evergrey and we are very excited to be back in your beautiful country. Up till now we don't have any future shows planned, but we are always up for it!
MELODY LANE: Could you tell us two bands, from the actual international scene, you'd like LESOIR to tour with?... Two bands that would represent a perfect line-up for LESOIR to play with. And why these bands?
Ingo Dassen: We are going on tour with a band we truly love; Riverside. And we've been on tour with The Gathering, those two bands are legendary and playing with them is a dream come true. But if we need to choose other bands it would be Steven Wilson and A Perfect Circle, both are big influences for us.
MELODY LANE: We know that 'to define is to limit'… but how do you define LESOIR sound? Are you a Prog metal band…an Art rock metal band… An alternative rock band Or…?
Ingo Dassen: We are just a band. We write what we like. We like to tell stories and take people along on our musical journey. Sometimes those stories are heavy, sometimes they are dreamy. And if you need to put a tag on it, we think we are an artrock band, as we are not thát progressive as you would maybe expect from a typic progband.  We are a bit on the softer side in the genre I guess… dynamic, filmic… come and/or listen and find out for yourself!
MELODY LANE: Which musicians are/have been your main musical inspirations? And which are your favorite bands nowadays?
Ingo Dassen: Steven Wilson, Anathema, Riverside, Gazpacho, The Pineapple Thief, Karnivool, Oceansize, A Perfect Circle, TOOL
MELODY LANE: As a musician, what has been your biggest achievement to date and what do you want to achieve in the near future?
Ingo Dassen:Touring China 4 times, going on tour with Evergrey, The Pineapple Thief, The Gathering and Riverside. Recording the last 3 albums with John Cornfield (Muse), recording the last album at the famous Sawmills Studios with Bruce Soord (The Pineapple Thief). Playing at the Night Of The Prog festival, getting signed to Gentle Art Of Music. And the story continues! We are writing our fifth album, and who knows what the next episode will bring.

MELODY LANE: In the end…A message from you to all MELODY LANE readers.
Ingo Dassen:We are hoping to see you all at one of the two Riverside shows in Itally in March. Come and say hello to us at the merch booth after the show, and/or follow us on social media. We love meeting people and having a drink together!