INTERVIEW
WITH
COR
SCORPII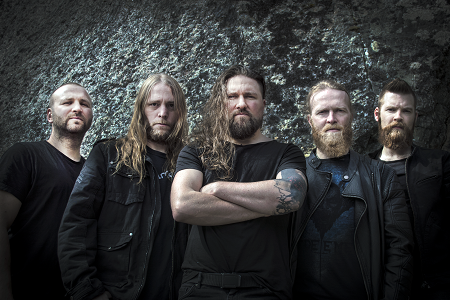 INTERVIEW WITH THOMAS S. 

ØVSTEDAL

  
intervista di DANIELE PIETRINI
MELODY LANE had the pleasure and the honour to have a great interview with Thomas S. Øvstedal, singer of the cult black/folk metal band COR SCORPII, the band born from the ashes of the legendary norwegian band WINDIR. Thomas told us about the brand new album 'Ruin' (out in June on Dark essence Records), why it took so long to release this second masterpiece and what's behind the creative process of COR SCORPII music.
Interview not to be missed!
MELODY LANE: First of all, also if it can sound a bit expected…Can you tell us where does the name COR SCORPII come from?  
Thomas S. Øvstedal: The name refers to the centre star of the Scorpio constellation. It basically means "Heart of the Scorpion". It was the working title for the project that became this band. We had plans to find a new name, but after a while it stuck with us. It works for us. We perform music that plays a lot on emotions, so the heart-analogy works really well. The scorpion-image also fits well with the style of music and the lyrical approach. It is a bit dangerous and can have a bit of a sting. 
MELODY LANE: From what we can read the line-up of the band is changed in one member, you got a new lead guitarist, Erlend Nybø (ex FUNERAL) …Can you tell us something about this change and how the new guitarist's influenced the sound of COR SCORPII? …And can you tell us something about the roots of COR SCORPII?
Thomas S. Øvstedal:We started working on some of the songs that Gaute (keyboards) had written while he was playing in both Ulcus and Windir. After Windir came to an end we decided we would try to make something more of what then became Cor Scorpii. There was a period where Cor Scorpii was not very active. Our then lead-guitarist Stian was offered a job with Vreid which included a lot of touring. We of course understood his desire to be a more active musician and wished him all the best. Erlend was a friend of mine from high school and we had him in for an audition. He nailed it and has since become an integral part of the band and the sound. The style of Cor Scorpii is probably the most important part and it is difficult for anyone of us to stray from it, but Erlend brings a style that is a bit different than what Stian did. Maybe Erlend brought a bit more thrash influences into his solos. 
MELODY LANE: Can you list us 3 songs, from the COR SCORPII  discography (including new material), that can define the sound of the band … 3 songs that can help our readers to know COR SCORPII at the best. 
Thomas S. Øvstedal:The track "Når enden er god" from the demo Attergangar, has been part of our live set quite a few times and displays our melodic flair quite well. A combination of riffs and melodic passages that are typical to our sound. "Oske og innsikt" is the Magnum Opus of our debut album Monument. In this song we have the same elements as on the demo, but probably a bit more technical style and also a bit more advanced structure and arrangement. And a little more epic as well I think. Also a very important part of our live set. "Siste Dans" from Ruin is a bit different than the previous two songs, but in a way very typical Cor Scorpii. A bit more "folky" sound perhaps. Massive riffs and epic melodies. Incredibly catchy without being too pop. 
MELODY LANE: Tell us something about the creative process of your music. Is there a main composer or we can talk about a team work? The songs come from ideas of a single member and then the band works on these ideas in the studio jamming together, or your songs are written in the studio and all the members compose together? 
Thomas S. Øvstedal:It is a combination of this I think. We have three composers and one lyricist. Each composer presents an instrumental preproduction of the song that is around 95% complete. While we record, each musician adds his little bit to it and makes the songs what they are. The lyrics are written to the songs, based on the feeling I get while listening to them. 
MELODY LANE: Who writes lyrics and words in COR SCORPII? Can you tell us something about contents and messages of the lyrics of your songs?
Thomas S. Øvstedal:I write the lyrics, and this time I chose to write them in Norwegian. We have two written versions of Norwegian in Norway and the lyrics are written in the one which is largely based upon the dialects of our area. The lyrics themselves are a combination of short stories and more "lyrical paintings". Topics are revolving around loss, pride, a need for solitude and to break free from a dogmatic society. I plan to go into more detail with translations at a later time, so this will have to do for now. 
MELODY LANE: After time, are you totally satisfied with your choices about sound and the writing of your debut album 'Monument' or would you change anything? Why did it take ten years for releasing your second album 'Ruin'? …It's been a very long waiting…What did it happen in these ten past years to the band?
Thomas S. Øvstedal:The only thing we are displeased with is of course that it took us ten years. The production was handled incredibly well, and both Børge Finstad (Toproom Studio) and Tom Kvålsvoll (Kvalsonic Labs) did an amazing job with the material. During these ten years we pursued careers and started families. 4 of us have 10 children between us now. So we've had different priorities for a while. The band was never dead, but it was very difficult to find time together. The songs have been mostly finished for a time, but they have been allowed to mature for a while,and I think the albums has benefitted from the extra time. 
MELODY LANE: So will you tour in the next future? Have you already a touring schedule? Any chance for us to see COR SCORPII playing live here again in Italy in the next months/year?
Thomas S. Øvstedal:We hope to get some gigs during the next year/years, but have to find someone to help us with it. We had a slight delay in getting the  last recordings done, which made it difficult to book shows for this summer and the coming autumn. It is still necessary for our fans to ask festivals and promoters to book us if they want us to come to their country or city. 
MELODY LANE: Could you tell us two bands, from the actual international scene, you'd like COR SCORPII to tour with?... And why these bands? 
Thomas S. Øvstedal:That is the most difficult question ever! We'd love to play with anyone. As long as we can get along on the road, it will all be good. Something melodic is always nice though. 
MELODY LANE: We know that 'to define is to limit'… but how do you define COR SCORPII sound? Are you a Black Metal…a Melodic Black Metal…a Folk Black Metal… Or… 
Thomas S. Øvstedal:We don't really know. Some call us folk, pagan or black metal. It is not important to us and if people need to label our music in some way that is fine with us. We are influenced from these genres but do not really fit under any ONE of these. We have a little bit of everything I guess. 
MELODY LANE: Which musicians are/have been your main musical inspirations? And which are your favorite bands nowadays?
Thomas S. Øvstedal: Another really difficult question. We don't necessarily share exactly the same taste within the band, which is a reason for why we have a bit of a diverse songwriting style going on. And it is impossible to name certain musicians that have inspired us without leaving out equally important inspirations. We draw inspiration from a vast well of music. Old school Scandinavian black metal, melodic death metal, classical music, contemporary classical music and everything in between. 
MELODY LANE: As a musician, what has been your biggest achievement to date and what do you want to achieve in the near future? 
Thomas S. Øvstedal:I think our greatest achievement is actually staying together. We've been through some really tough spots as a band were we've felt that things have stopped up. But then we somehow got the ball rolling again. Releasing two great albums has of course been fantastic and finally getting stuff on vinyl felt really good. We hope to get some more shows done. There are so many things we haven't done yet, places we've never been or played, so we'd love to do more live shows. 
MELODY LANE: In the end…A message from you to all MELODY LANE readers.
Thomas S. Øvstedal:Thank you,  Best regards and all the best!We want to thank all of our incredibly faithful fans for sticking around through these years. And we want to express our gratitude to those who check out our new album Ruin. It has been many years in the making, and we think it represents something pure and unaffected by current musical trends. Hope to see you on the road somewhere! 
Hails from Thomas/Cor Scorpii