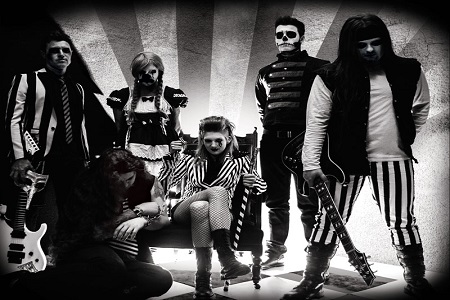 INTERVIEW WITH PSYCHOBERRIE and LEX 
intervista di DANIELE PIETRINI
MELODY LANE had a great interview with Psychoberrie and Lex, respectively singer and guitarist of the Theatrical Avant-Garde Rock band WARD XVI.  They told us about the roots of their band, the making of their debut album " The Art Of Manipulation " and their will to "to terrorize Europe and the rest of the world!".
Interview not to be missed.
MELODY LANE: First of all, also if it can sound a bit expected…Can you tell us where does the name WARD XVI come from?
Psychoberrie: It's taken from Whittingham Asylum, an old Mental Asylum in Preston where there were reports of horrific abuse, the worst of which took place on Ward 16.
MELODY LANE: The line-up of the band is confirmed, is it the same of the beginning of the band…or have you had changes in the last years? Can you tell us something about the roots of WARD XVI
Psychoberrie: We've had a few line-up changes over the years, technically I'm the only founding member left if we go right back to the roots although Dr Von Stottenstein and Lex Whittingham joined very early on after we'd released the first EP and they were both an integral part of The writing process for our debut album 'The Art of Manipulation'. We're at a point in our career where we're not pulling in much money but we're getting a lot of gig offers and tour opportunities that make juggling a full time job and the band very difficult. It unfortunately becomes a gamble for the members involved, especially when you add in the fact that we're at an age where some of us want to settle and start families. It's more than a hobby now but not quite a career and the state of the music industry doesn't give people much hope for a future career in a band, it just doesn't pay the bills. That said the line-up changes aren't a worry as I originally set this up as a project to keep mixing in different genres and never try to replicate what we've already done. It's a horror concept at the very root and the subject matter of the next album needs to be very dark, it will be the darkest album of them all and I think the line-up we have now is perfect for bringing the story to life.
Lex: I found the band via an advert they'd posted online looking for a new guitarist, before I joined they'd just finished recording, and were about to release 4 songs, and had only played a handful of shows. Before I even heard any of the band's finished songs I heard a super rough demo of what eventually became the first track on our album (Take My Hand) and I was instantly hooked, I knew this was the band for me.

MELODY LANE: Can you list us 3 songs, from the WARD XVI discography (including new material), that can define the sound of the band … 3 songs that can help our readers to know WARD XVI at the best. 
Psychoberrie: Toy Box, Cry of the Siren, Ward XVI

MELODY LANE: Tell us something about the creative process of your music. Is there a main composer or we can talk about a team work? The songs come from ideas of a single member and then the band works on these ideas in the studio jamming together, or your songs are written in the studio and all the members compose together?
Lex: It varies from track to track, songs like Cry Of The Siren were primarily written by Dr. Von Stottenstein, with me adding my sections once the the main body of the song had already been set, but with, for example, Crystal Ball, I had a lot more input in the writing process.
Psychoberrie: A few basic ideas are often written by one of us at home but they're always brought to the rehearsal room to be developed into full songs. A few songs have just been jammed entirely in the room, aside from the lyrics, I always write lyrics on my own, I need to be on my own to get in the zone. Every single song is an amalgamation of people's ideas. We want to be different so it's important to have many different influences coming together although this can also cause argumemts.

MELODY LANE: Who writes lyrics and words in WARD XVI? Can you tell us something about contents and messages of the lyrics of your songs?
Psychoberrie: I write the lyrics. I play a psychopath who uses her sexuality to manipulate a man into killing for her own sadistic pleasure and the story is told from her perspective, as though she is speaking directly to him, aside from the exception which is Crystal ball which is told from the perspective of a fortune teller who warns him of his fate. Most of the songs are fictional but there are a few in there that have double-meaning and metaphorically represent real events and emotions from my life.

MELODY LANE: After time, are you totally satisfied with your choices about sound and the writing of your debut album " The Art Of Manipulation " or would you change anything? 
Psychoberrie: I'm happy with the outcome of The Art of Manipulation. If I were to go back the only thing I would change is to make sure we were more prepared for the recording. There were changes made in the studio, people writing some of the parts etc which cost us time and money. There are other things for example we could've recorded the guide tracks at home, but these are things we can learn from in future. I would not change anything about the music.
 
MELODY LANE: So will you tour in Europe in the next future? Have you already a touring schedule? Any chance for us to see WARD XVIplaying live here in Italy next months/year?
Psychoberrie:  We'd love to tour Europe. We did have a tour pencilled in which fell through unfortunately through no fault of our own, but we're definitely looking to escape the confines of Ward XVI and cross the waters. I'd love to terrorize Europe and the rest of the world in fact.

MELODY LANE: Could you tell us two bands, from the actual international scene, you'd like WARD XVI to tour with?... And why these bands?
Lex: I think we'd go down well on a tour with Diablo Swing Orchestra, I think our styles are quite similar in the way that neither of us really sound like anyone else, I feel like their fans would appreciate what we're doing.
Psychoberrie: I'd love to tour with Alice Cooper. I think it would force us to up our game as we'd have to make sure we were different for the theatrical element of the stage show. I'd also just love to see the show from behind the scenes in hope to learn a thing or two.

MELODY LANE: We know that 'to define is to limit'… but how do you define WARD XVI sound? Are you a Shock Rock band…or Dark Glam Band…or Theatrical Avant-Garde Metal? Or…
Psychoberrie: We call ourselves Theatrical Avant-Garde Rock which is a total cop out in all honesty. It basically just means we do what the fuck we want rock. I'm very reluctant to get in a box. I don't want to know where we'll go next with the music, nevermind the listener. To conform to a genre would just box us in. I like it to be a mystery.

MELODY LANE: Which musicians are/have been your main musical inspirations? And which are your favorite bands nowadays?
Psychoberrie: Many of my influences are from the classic rock era. I love AC DC and Guns n Roses though my music taste is very eclectic, I could go on writing a list of artists across the genre spectrum dating back to the 16th century haha, but my heart lies with good old fashioned rock n roll. Nowadays I'm not really into bands that are just reincarnations of the great bands before us, that bores me. If I wanna listen to Metallica I'll just listen to Metallica, I'm always on the hunt to find something different. Skindred, Volbeat and Alter Bridge are my favourites circulating nowadays. I love Skindred's mix of Reggae and metal, Volume was one of the best albums I've heard in a long time, it was in my car stereo on repeat for months, I can't wait for Big Tings to arrive though my door.
Lex: Nightwish have always been, and probably always will be my favourite band, more recently I've gotten super into Mastodon and Red Fang, and, although it doesn't really shine through in my playing style in Ward XVI, I love bands like Arch Enemy and The Black Dahlia Murder.

MELODY LANE: As a musician, what has been your biggest achievement to date and what do you want to achieve in the near future? 
Lex: Every time we finish a show and someone wants a picture with me/us, or wants their CDs and merch signing, or asks for my recommendations based on the gear I use live or for recording, it's almost surreal to me. Just making music that people enjoy enough to ask for things like this is a huge achievement to me.
Psychoberrie: Probably winning the Metal 2 the Masses and playing Bloodstock Festival. The New Blood Stage slots were all pulled from a hat and we got the short straw, first band on on Saturday morning at 10:30am, though we used this to our advantage and did a lot of promotion and had the biggest crowd they'd seen at that time in the morning which attracted a lot of media attention. We also went on to be one of two bands on the New Blood Stage that won a brand new Studiomaster PA System as a result of our theatrical performance.

MELODY LANE: In the end…A message from you to all MELODY LANE readers.
Psychoberrie: We're Ward XVI, a Theatrical Horror Avante-Garde Rock/Metal band from Preston. We hope you like the new single 'Cry of the Siren' and we hope to see you at one of our shows in the near future. Keep supporting new bands and live music. Too many music venues are closing down so get out of the house, go to your nearest live music venue and support the venue and the bands, get drunk and have a good time!