INTERVIEW
WITH
ELECTRIC
RADIO
KINGS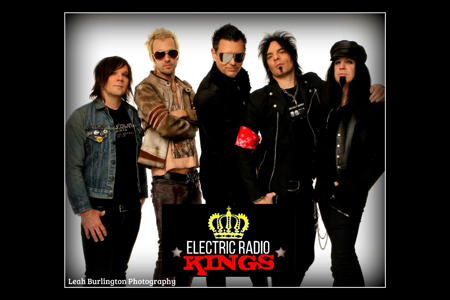 INTERVIEW WITH STACEY BLADES intervista di Daniele Pietrini


MELODY LANE had a great interview with Stacey Blades, founder and guitarist of the brand new "alternative hard rock" band Electric Radio Kings. Stacey, who in his amazing career played,recorded and performed with worldwide fame bands such as ROXX GANG, L.A.GUNS and Bobby Blotzer's Ratt, told us about the roots of his new band,  Electric Radio Kings touring and recording future plans and revealed us his major influences as a musician and the bands he likes the most.
Interview not to be missed! 
MELODY LANE:  Hi again Stacey! First of all, talking about your new band Electric Radio Kings, can you tell you tell us something about the other musicians? The roots of your new band…How did you get in touch and gathered your band mates? We read in your band you got drummer Johnny Rude from Salem Saints, bassist Del Cheetah from Sex Slaves and singer Paul Christiana from Sun God Seven.
Stacey Blades: Sure, well Paul and I have been recording off and on since 2013. We met through the late great producer Andy Johns (Led Zeppelin, Rolling Stones, Van Halen, Cinderella) Andy had done the last 4 LA Guns records. Paul had hired Andy to produce so he said that it was a must that I play guitar on his demo hahaha.   We also have the awesome Keith Horne on 2nd guitar from Atlanta, GA band Rockets To Ruin,  Canadian bred Johnny Rude on drums and the ultra cool Del Cheetah from Sex Slaves. Del and I met years ago when his band was doing select European dates with us in LA Guns in 2011.

MELODY LANE: Can you tell us something about the creative process behind Electric Radio Kings music?  Is it a team work? Do the songs come from ideas of a single member and then the band works on these ideas in the studio jamming together or are your songs written in the studio and all the members compose together?
Stacey Blades: Well Paul and I have an amazing songwriting chemistry. The band however as a whole has a great chemistry for hearing things and when the 5 of us are in a room together it's magic. Paul and i write the majority of the song melody and structure. Our songs I consider the best songs I have written and co-written in my career.

MELODY LANE: Now that your EP Lights Fantastic' s been released, what's next for the band? Any dates planned? Will you tour in the near future? Any chance to see you playing live here in Europe next year? 
Stacey Blades:Yes we are hitting it full throttle. We are going to secure a great booking agent and also shop a record deal to put out a full length album. we recently did our 1st show and EP Release party here in Vegas Dec 8th. it was a great night. Our next single Sympathy For Me will be released Mid March and will be accompanied by a video that will begin shooting here in Las Vegas Jan 31 through February 3rd.

MELODY LANE: How would you define the sound and the genre of your new band? Is your sound alternative hard-rock…Or Sleaze/New Glam…or… ?  We know "To define is to limit" but if you should choose how would you define your sound?
Stacey Blades:ERK is definitely different that previous music I've done. It leans more on the alternative side. We have combined the best of 70's, 80's 90's and 2000 styles of rock. So if you're into Cheap Trick you like ERK, if you like GNR you'll dig ERK if you like bands like Sound Garden, Stone Temple Pilots and Nirvana you'll dig ERK, if you like Foo fighters you'll dig us. We have all these great elements from these type of bands. Paul and I wanted to do something different and modern but it has all those classic band elements.

MELODY LANE:  Tell us a song from your Ep that, in your opinion, defines at the best Electric Radio Kings sound, one song that can help our readers to know your new band at the best. 
Stacey Blades: I would say for Grabbing At A Distant Star and Sympathy For Me. Alternative edge with big guitars, catchy melodies and big production!
MELODY LANE:  We read that Troy Patrick Farrell played and recorded drums for Lights Fantastic. Can you tell us something about your friendship/collaboration with such a great drummer? Any chance that Troy will play live with Electric Radio Kings or that will he became a permanent member of your band?
Stacey Blades: Troy and Dee were hired to play on the EP and they both did a fantastic job. they are both fantastic guys and musicians but just didn't work out for them to continue in the band. 

MELODY LANE: We read also that your EP's been produced by AJ ST. James tell us about working with him. 
Stacey Blades: AJ is fantastic cutting modern edge producer who did James Durbin from American Idol TV show fame record. AJ is from Toronto. the guy is a whiz in the studio. We've become great friends and his production is stellar! 

MELODY LANE: Are you already writing new material for a next Electric Radio Kings release? Are you thinking about a Full-Length? Are you in contact or dealing with any label in way to support your band also around the world?
Stacey Blades: Yes we have an entire albums worth of material and it's very strong. Other songs like Black Cherri Blossom, Jack Black Flower, Round Go Mary, Flame and When The Lights go Down (dedicated the the victims of the deadly Mandalay Bay Casino shootings) are all incredible songs! We are in the process of doing all the biz stuff in the next few months.

MELODY LANE: Talking about your past experiences with legendary and cult bands such ROXX GANG, L.A.GUNS ,  Let It Rawk …You played with very famous singers…Can you tell us what you like the most of them, their best quality…and what you didn't like in working with them…or what you would have liked to go differently in working with them:
Stacey Blades:
- Kevin Steele- Great songwriter, however very difficult to work with. Very self centered and my way or the highway attitude. I have zero tolerance for those type of musicians and people.
- Phil Lewis- Fantastic singer and great writer to. Another person very difficult to work with. I always tried to be a good friend to Philip and good band mate and he always kept me at arms length. The last 2 years I was in the band he was almost impossible to be around and he is among many reasons why I left LA Guns.  I do wish him the best though and there was a lot of good times and laughter with Phil. 
- Jaime St. James- Great guy, great singer, great writer. I really enjoyed working with The Saint. Loved being around Jaime just always in a good mood and funny as hell. On a flight back from London he had me laughing so hard I was crying and couldn't even speak. The guy's a riot and Black N Blue just an awesome band from that era! Nothing but great things from Jaime. All in all I'm very grateful for my time in Roxx Gang and LA Guns but it's all in the past.  I'm very proud of my body of work with all those bands but it's about now and the future for Electric Radio Kings! This is MY BABY!!! :) 

MELODY LANE: Can tell us 2 or 3 of the greatest concert you have played in the years? The best ones, the memorable ones…The concerts that you remember with more pleasure and satisfaction…
Stacey Blades: August 2016 playing with Blotzer's Ratt at Sturgis- South Dakota to 35,000 people! lots of great shows over the years, Sydney Australia, Rome, Tokyo so many to list

MELODY LANE:  Which bands and guitarists are your main musical inspirations?... And which are your favorite bands nowadays? Apart from Electric Radio Kings, can you suggest us any new emerging young band?
Stacey Blades: For me growing up it was The Cars, Cheap Trick, Journey, Ozzy, Van Halen, AC/DC, New York Dolls, Judas Priest, Aerosmith, Van Halen, April Wine and Zeppelin. Guitarists was Neal Schon, Randy Rhoads, Jimmy Page, Neil Geraldo, Glen Tipton to name a few. Been listening to a lot of Joe Bonamossa, ELO, Stone Temple Pilots , the Cars, Five Finger Death Punch and Velvet Revolver. def check out The Biters and The Struts !

MELODY LANE: As a musician which has been your biggest achievement to date and what do you want to achieve in the near future? 
Stacey Blades: Having an amazing career here in America, I grew up in Toronto Canada so for me that was a big accomplishment. Touring the world 8 times, making records with the legendary late great Andy Johns, playing with some amazing musicians, having lots of music in TV shows and of course the fans who continue to follow and support me. I love you guys!!!  I'm super excited about the future and success of Electric Radio Kings

MELODY LANE: In the end, a message to all MELODY LANE followers and readers…
Stacey Blades: Thank you all for your support and I can't wait to come over to Italy with my new band
Cheers, love and peace!!