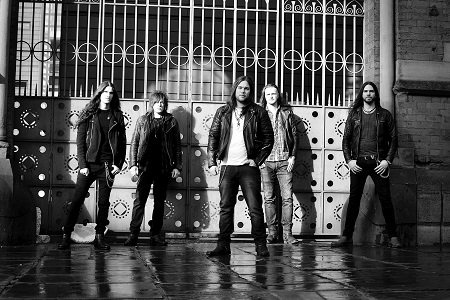 INTERVIEW WITH ANTONY ELLIS intervista di Daniele Pietrini


MELODY LANE had a great interview with Antony Ellis, singer of the british hard rockers BIGFOOT. Antony told us about the roots of his band, BIGFOOT future plans and his pleasure in playing next FRONTIERS ROCK FESTIVAL, with great bands like Quiet Riot, Stryper and Jorn.  
Don't miss these english rockers, on their album you can find great guitars, bluesy -soulful vocals and super-catchy melodic melodies!
Interview not to be missed!
MELODY LANE: First of all, also if it can sound a bit expected…Can you tell us where are you from and where does the name BIGFOOT come from?
ANTONY ELLIS: - I myself am from a town called Hindley a town in Manchester , we all live very close to each other which makes getting to rehearsals very easy. As for the name, we couldn't really decide on a name at first and every name that we came up with was either too much or too little as representation of us. After a while the name Bigfoot came up and we all instantly took a shine to it as we felt it was perfect.
MELODY LANE: The line up of the band is confirmed, is it the same of the beginning of the band…or have you had changes in the last years? Can you tell us something about the roots of BIGFOOT...How the band is born? 
ANTONY ELLIS: Yeah we've had the same line up since the start. The band came together as 5 individuals from other bands who were looking to build the next level of group and to take it one step further.  We didn't really know each other too well,  some of us didn't know each other at all it was only through associations of one another that it became possible to come together. 
MELODY LANE: BIGFOOT album's been released via the Italian label "Frontiers Music Srl". How did you get in touch with this label, that is a true giant for melodic and hard rock music? 
ANTONY ELLIS: It was all done through a third party, they pretty much came to us. Everything is going really well and we are starting work on the second album in the very near future!

MELODY LANE: Can you list us 3 songs, from the BIGFOOT discography, that can define the sound of the band … 3 songs that can help our readers to know BIGFOOT at the best. 
ANTONY ELLIS: My three songs would have to be: * Bitch killer * Blame it on the dog and  * Forever alone. Its quite hard to try and nail it down to three but I think these tracks are a pretty good representation of our abilities as musicians.
MELODY LANE: Tell us something about the creative process of your music. Is there a main composer or we can talk about a team work? The songs come from ideas of a single member and then the band works on these ideas in the studio jamming togheter, or your songs are written in the studio and all the members compose togheter?
ANTONY ELLIS: We have several different ways of writing, whereas  some of us prefer to write on our own, others prefer to brain storm with another member and jam it out till it feels right, again though, there is no set method of writing we just write how it feels best to write at that moment in time. 
MELODY LANE:  After time, are you totally satisfied with your choices about sound and the writing of your debut album? If you could would you do anything in a different manner? 
ANTONY ELLIS: Of course there's always things when looking back on it that you feel you should've done differently but that's all part of how you grow as a musician and a band. I personally think we did a great job considering none of us had released an album before in previous bands, we took a lot from the experience which will get pumped into album two. 
MELODY LANE: We read that BIGFOOT will play, in April 2018, at the FRONTIERS ROCK FESTIVAL, here in Italy, sharing the stage with great bands like Quiet Riot, Stryper, and many others…So will you tour in Europe in the next future? Have you already a touring schedule? Any chance for us to see BIGFOOT playing live here in Italy next year apart from your label festival?
ANTONY ELLIS: Yes that's true.. and we can't wait playing stages with the likes of "Quiet Riot", "JORN" and "Stryper" is always an honour for us as young musicians. Our management is working on a few things that we can't disclose just yet as they are ongoing, we love Italy and it's always a possibility us coming back and playing at a another time, besides the festival, just keep an eye on our facebook page for any gig updates.

MELODY LANE: Could you tell us two bands, from the actual hard rock scene, you'd like BIGFOOT to tour with?... And why these bands?
ANTONY ELLIS: Obviously we'd all like to tour with the likes of "Aerosmith" and "Journey" but I don't know how realistic that would be. I'd love to do a tour with "Steel Panther" simply because they'd have you laughing all day and night by the looks of things. And this is another wild card but I think the guys a legend, to tour with Black Label Society and Zakk Wylde would be insane.
MELODY LANE: As a singer, which musicians are/have been your main musical inspirations? And which are your favorite bands nowadays?
ANTONY ELLIS: I've been influenced by quite a few musicians/singers, for me my biggest influence vocally has to be Paul Rodgers I couldn't get enough the first time I heard his voice. On a musical level I'm a huge "Eagles" fan as well as a big fan of Don Henleys and Glenn Freys solo careers, as songwriters for me they absolutely excelled. I'm a big fan of all music but "Free" and the "Eagles"  definitely had the biggest impact on me and still are my two favourite bands today. 

MELODY LANE: Something about your life: who is Antony Ellis when he's not playing with BIGFOOT? Have you got also a "regular" job and different hobbies other than music, or music his 100% of your life?
ANTONY ELLIS: I do have a regular job I work in the mental health sector, I only do this part time though because of how much time I like to dedicate to my music. If I'm not at work I'm usually on tour, writing a song or spending time with family.
MELODY LANE: As a musician and as a band, what has been your biggest achievement to date and what do you want to achieve in the near future? 
ANTONY ELLIS: I think as a band our album launch was a huge achievement for us. To sell it out in such a short amount of time was a brand new level for us and showed what great support we have from our fans. As a musician I think our recent tour with Eclipse was really special, the crowds in Spain were fantastic and really made it a great run. 

MELODY LANE: In the end…A message from you to all MELODY LANE readers.
ANTONY ELLIS: The last 12 months have been epic if I look back on what we've accomplished so far its mind blowing. We're all raring to go and ready to see what the next twelve months has in store for Bigfoot visit our facebook page for regular updates and get yourselves down to a show soon.