INTERVIEW
WITH
BABY
SNAKES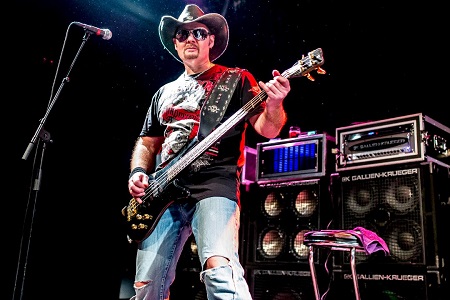 INTERVIEW WITH BERNT JANSEN 
intervista di DANIELE PIETRINI

MELODY LANE exclusive! MELODY LANE had the pleasure and the honour to have a great interview with Bernt Jansen, bassist of the norwegian hard-rock band BABY SNAKES. Bernt told us about the roots of his band, BABY SNAKES future plans and  "DRACULA - Swing Of Death"  (FRONTIERS MUSIC SRL), the rock opera in which he plays together with his long time friend guitarist Trond Holter.
(Bernt and Trond were respectively bassist and guitarist of the legendary glam band WIG WAM).
Interview not to be missed!   
MELODY LANE: First of all, also if it can sound a bit expected…Can you tell us where does the name BABY SNAKES come from? Has it got anything to do with FRANK ZAPPA?
Bernt Jansen: Baby Snakes is taken from the Zappa song. Both Trond and I are big Zappa fans, but it was just a coincident we chose the name. A gig was coming up and we had to have a name for the band of course. So I scrolled through my Ipod for song titles, and we stopped at B when the zappa song Baby Snakes turned up. We agreed that Baby Snakes was something we could use. So there you go!

MELODY LANE: The line up of the band is confirmed, is it the same of the beginning of the band…or have you had changes in the last years? Can you tell us something about the roots of BABY SNAKES...How you and Trond Holter got in touch with Magnus and Christian? So how the band's born?
Bernt Jansen:Trond was producing an album for a band called Podium where Christian was the singer. They hit it off very well both as musicians and friends. At the time Trond and I wanted to do something else besides Wig Wam which was already starting to crumble. (a more extended answer later in this interview) So Trond, Christian and myself got going and found a drummer Ole Herman Røhr, which was incredible. Unfortunately, he backed out just before we were going to shoot the video for "Gunslinger". Christian had a drumming neighbor who could step in on just a day notice, Magnus. He was just 19 at the time, but did an excellent job. We recorded the rest of the album with him and did lots of gigging. As for Magnus, he was more or less a hired gun after the rest of us had invested money to record and do vidoes etc. And he was working as a freelance drummer doing all kinds of things. In the end it didn't work out for us, so now Per Morten Bergseth is our permanent drummer (also working in the Dracula swing of death project). A good friend and an amazing drummer.

MELODY LANE: Can you list us 3 songs, from the BABY SNAKES discography (including new material), that can define the sound of the band … 3 songs that can help our readers to know BABY SNAKES at the best.
Bernt Jansen: Gunslinger is the first song we recorded and the song which I think define Baby Snakes the most. Now we have so many new songs which are really exciting and it's hard to choose. The new album is more raw in the sense that the songs are heavier and darker than our first album. We put a lot of effort into our songwriting which I believe is one of the bands strength. A song called "Underworld" from the next album is one I will mention. This one really takes care of business. A third song will be "Still Alive" from the next album. An up tempo live killer with a catchy chorus and a classic guitar riff. Can't wait to present the new songs!

MELODY LANE: Tell us something about the creative process of your music. Is there a main composer or we can talk about a team work? The songs come from ideas of a single member and then the band works on these ideas in the studio jamming together, or your songs are written in the studio and all the members compose together?
Bernt Jansen:We compose our music as a team. Trond is such a talented songwriter, so many ideas comes from him of course. But both Christian and myself contribute a lot to writing material. Even Per Morten is a great riffmaster. So we are very fortunate to have all members providing new material. Sometimes one of us present more or less a finished song, but on this album most songs have been worked out together from an idea or a riff. Trond and I have worked out a lot of raw ideas into complete songs, and we even make changes in recording as we have so many options these days using pro tools.

MELODY LANE: What are going to be, in your opinion, the main differences between your first full-length "GUNSLINGERS" and the new album that you're writing/recording? After time, are you totally satisfied with your choices about sound and the writing of your first album "GUNSLINGERS"?
Bernt Jansen: Well, it's been some time since we made "Gunslingers" and as musicians and composers we like to evolve our music and the way we present it. As for "Gunslingers" it has some really strong tracks but you can still hear the Wig Wam sound lurking in there. This time I believe our direction is more into a heavier sound. In between these albums both Trond and I have toured and recorded with the band "JORN" so I think we naturally have been influenced with more metal style of music. As for "Gunslingers" we are still happy with that album. There are of course details you always would like to have changed, but it is what it is and we are still proud of that album. We are also a band who always try to get to the next level at what we do. You always want to be a better musician, write better songs and make the sound better. We are very ambitious in that way. Always looking to make a bigger step in the right direction.

MELODY LANE: We read that BABY SNAKES will play, in May 2018, at the GJERDRUM ROCK FEST, in Norway, sharing the stage with great bands like Skid Row, Joe Lynn Turner, The Poodles and many others…So will you tour in European the next future? Have you already a touring schedule? Any chance for us to see BABY SNAKES playing live here in Italy next year?
Bernt Jansen: Our main focus is now in the studio, but there are some gigs lined up for next year. For us it's much easier to book gigs with a brand new album at hand. As soon as the promo plan for the new album is ready, the booking of a tour will commence. For now we will have to do the right things in the right order. But we are as hungry as ever, if there comes offers from Italy or anywhere we will be there!

MELODY LANE: Could you tell us two bands, from the actual hard rock scene, you'd like BABY SNAKES to tour with?... And why these bands?
Bernt Jansen: I haven't considered that thought too much but I supported both Alice Cooper and Kiss, two childhood rock heroes. Maybe I would choose Judas Priest and Megadeth. Love those bands!

MELODY LANE: As a bass player, which musicians are/have been your main musical inspirations? And which are your favorite bands nowadays?
Bernt Jansen:When I started to play the bass, I was very inspired by Iron Maiden and Steve Harris. I used to play with my fingers for many years, but with Wig Wam I used a pick more and more. I've been influenced by classic rock bass players as, John Deacon(Queen), John Paul Jones (Led Zeppelin), Geddy Lee(Rush) and Michael Anthony (Van Halen) to mention a few.
I often find myself listening to the classic rock scene from the seventies and eighties, but to mention some bands from the scene nowadays I like Black Stone Cherry, Clutch and Avenged Sevenfold.

MELODY LANE: If it's not a problem, can you tell us something about WIG WAM split? Why the band disbanded? It was a great glam band, lots of our followers are really into WIG WAM music. All of WIG WAM albums are really great!
Bernt Jansen:Thanks! We are really proud of what we accomplished. The story of Wig Wam is in many ways the classic story of the rise and fall of a rock band in our own scale. It started out as a perfect band with an extravagant frontman who could sing, a guitar hero and a solid bass and drum section with four characters who were all on the same page when we started out. After 13 years the band had disbanded through personal crises, adultery, alcohol and inflated egos. Can't go into details, but I believe the band had runs its course and from my point of view it felt like a relief when we called it a day. But I don't regret a thing. We really had the time of our lives.

MELODY LANE: Tell us something about your other project: "Dracula - Swing of Death", the rock opera in which you play together with your band mate Trond Holter and the legendary singer Jørn Lande. It's a great album released under the Italian label FRONTIERS RECORDS SRL. Are you touring for this rock opera? Will you bring it also around Europe? Will this project have a future, another album?
Bernt Jansen:Yes, we were touring this fall in after doing the Tons of Rock festival this summer in Halden, Norway. You know ¾ of Baby Snakes are also in this band, so we are kind of riding several horses at the same time here. Dracula-swing of death is something Trond started writing 10 years ago, but didn't come alive before Jørn joined and the album was released.  A disappointment to many Jørn and the rest of the band have split and gone their separate ways. Doing only one show with the line-up from the album. But the rest of us still carry on with a new singer and a new record. Nils K Rue from "Pagans Mind" certainly have big shoes to fill, but he's got his own shoes and are doing an amazing job. The next album Dracula-swing of death is to released spring/summer 2018 this time also under Frontiers Records. After the release I believe we are certain to bring this to Europe. I'm sure many would like to see and hear this music performed live on a festival somewhere in Europe.

MELODY LANE: Something about your life: who is Bernt Jansen when he's not playing with BABY SNAKES or Swing Of Death? Have you got also a "regular" job and different hobbies other than music, or music his 100% of your life?
Bernt Jansen:My wife says I'm playing my bass all the time and don't contribute to household chores at all. It's not quite true, but my eldest son is also a bassplayer and my father in law as well, so it must be something running in the family. I have a regular job as a teacher, so I pay my taxes and bills as any other. When I'm not playing music, I watch football. I'm a huge Arsenal supporter. I also watch Serie A and I can't believe Italy didn't make the world cup next year. It will be a true loss for all football lovers. We live by a huge river, so in the summer I spend some time in my boat enjoying a cold beer and maybe some fishing.

MELODY LANE: As a musician, what has been your biggest achievement to date and what do you want to achieve in the near future?
Bernt Jansen:I've been very lucky as a musician and I can't name just one achievement. I experienced the eighties, recorded with tapes in a proper studio. Released music on vinyl, cassette and cd at the same time. I've toured Japan several times. I have played my music almost all over the world. I've experienced success to the extent where I at some point have had enough. I have performed in front of 100.000 people. And of course played together with some extremely talented performers. I'm truly grateful for what music did for me, and still do. If it's still something I would like in the near future, it would be to present our music to a broader audience. In other words, do some cool festivals in Europe.

MELODY LANE: In the end…A message from you to all MELODY LANE readers.
Bernt Jansen:Watch out for the next Baby Snakes album and hope to see you guys on a Baby Snakes show in the near future! Happy new Year!