INTERVIEW
WITH
DEREK
DAVIS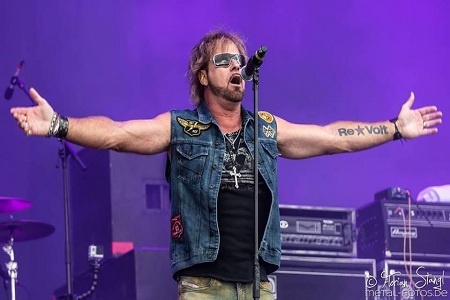 INTERVIEW WITH DEREK DAVIS intervista di Daniele Pietrini

MELODY LANE exclusive! MELODY LANE had a great interview with Derek Davis singer of the legendary californian hard rock band BABYLON A.D.

Babylon A.D. came on the scene in the late 80s, with a debut album that was one of the best hard rock releases of the era. Featuring classics like "Bang Go the Bells," and "The Kid Goes Wild" (the latter of which was featured prominently in RoboCop 2), that release cemented the band's place in rock and roll history. BABYLON A.D. is one of the few hard rock bands from the late '80s that are still operating with all of their original members, and to celebrate its thirtieth anniversary, BABYLON A.D. released a new album, "Revelation Highway", on November 10 via italian label Frontiers Music Srl.Interview not to be missed!

Melody Lane: Babylon A.D. new album, "Revelation Highway" 's been released via the Italian label "Frontiers Music Srl" in November. How did you get in touch with this label, that is a true giant for melodic and hard rock music?
Derek Davis:Their representative in America heard through the grapevine we were going to be releasing a new album and contacted us. We sent the tracks and they got back to us the same day and  wanted to put the album out on their label – And we said Hell yes!

Melody Lane: How long have you been thinking of doing a new album? How long has it taken to write and put together all the new songs?
Derek Davis:We had been writing and recording demos for over a year so all together it took about a year and a half.

Melody Lane: Tell us something about the creative process of Babylon A.D. music, do the songs come from ideas of a single member and then the band works on these ideas in the studio, jamming together…or is it a team work and your songs are written in the studio with all the members composing together?
Derek Davis:Every song is different, I write all the lyrics and melodies and a few tracks I wrote the entire song, Ron contributed a few ideas as well as John and then some songs were written altogether by the band.

Melody Lane:  …And what about the concept, the title and the lyrics of your last album…Are you the main composer? 
Derek Davis:Yes the concept was mine and yes I am the main composer, James our drummer is responsible for the artwork on our records. 

Melody Lane:  Talkin' about your new album "Revelation Highway": Babylon A.D. 's trademark sound is at the best, with melodic and catchy chorus, mixed with a fast and solid guitar driven hard rock: what songs of this album are different compared to the songs of your previous works? Any differences in the recording method between "Revelation Highway" and your previous albums?
Derek Davis:Every recording and every song always have a slight difference but the main thing is our bands over-all sound stays the same, and that's really important to us and to the fans.

Melody Lane:  I know that you've had to answer to this question many times, but I have to do it… One thing absolutely special about Babylon A.D. is that you still have all the original band members, that is very, very rare… So how special is it to play with the same guys that you played with on the debut album? How can you maintain the right team chemistry after all these years?
Derek Davis:That's the best part, we have grown up together from High school so we share a lot of common ground, our families know each other and we have a gang of friends that have been with us since the beginning. It's rare, but that's what is so cool, we hang out and drink, fight, party all the time so it's a traveling circus of fun!

MELODY LANE: List us 3 songs, from the Babylon A.D. discography, that you like the most to play live in concert…And why these songs? Up to now, during the concerts, how your fans are reacting to the new songs included in "Revelation Highway"?
Derek Davis:Hammer Swings Down, Kid Goes Wild, Shot Of Love would be my choices but I am really digging playing the new material and the fans seem to love the songs just as much as we do.

MELODY LANE: Any chance to see you playing live here in Europe in the near future? Here in Italy? Any dates planned? What can you tell us about Babylon A.D. touring plans now that the new album's been released?
Derek Davis:We are doing some select dates in the states and we are in negotiations for a tour of Europe some time in April. 

MELODY LANE: Could you tell us two bands you never played with and you'd like Babylon A.D. to tour with in the next future?
Derek Davis: Aerosmith and The Stones is a nice fantasy! ha

MELODY LANE:In the years you toured a lot, with many great bands, all over the world. Can tell us 2 or 3 of the greatest concert you have ever played? The best ones, the memorable ones?
Derek Davis: That's very hard because there are just too many shows, What I like best are the after party's and hanging out with everyone. 

MELODY LANE:  Which bands and singers are your main musical inspirations? And which are your favorite bands nowadays?
Derek Davis: Steven Tyler, James Brown, Al Green, Bobby Womack, The Beatles, Stones, Sade, Babylon A.D. Terence Trent D'Arby, I could go on along time, but mostly anything that has soul in it. I am not really a metal guy, but I can appreciate where those types of bands are coming from.

MELODY LANE:  As a musician and as a band, what has been your biggest achievement to date and what do you want to achieve in the near future?
Derek Davis: I guess being signed by Clive Davis to Arista. You first record deal is always the hardest to get it took a lot of work to get there. 

MELODY LANE: In the end, a message to all MELODY LANE followers and readers…
Derek Davis:Try the new record and pass it along to your friends. And say to them "BABYLON A.D. IS BACK"!