INTERVIEW
WITH
AGNETE
M.
KIRKEVAAG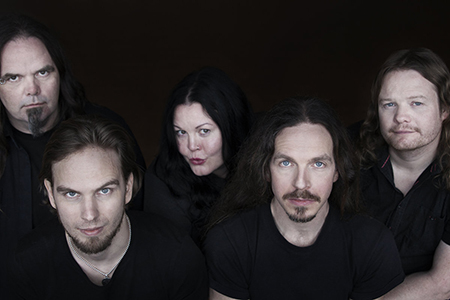 INTERVIEW WITH AGNETE M. KIRKEVAAG intervista di Daniele Pietrini
MELODY LANE EXCLUSIVE!!! MELODY LANE HAD A GREAT INTERVIEW WITH AGNETE M. KIRKEVAAG, SINGER OF THE NORWEGIAN PROG MASTERS MADDER MORTEM. Agnete told us about the creative process of MADDER MORTEM music, their future plans and their next european tour, that will start on 4th october. In this tour MADDER MORTEM will share the stage with swedish prog kings SOEN. INTERVIEW NOT TO BE MISSED!!!
MELODY LANE: You made your fans wait for seven years before releasing your last album "Red in tooth and claw". Of course it was worth it, the album is a real masterpiece…but what was the reason? What can you tell us about?
AGNETE M. KIRKEVAAG: Well, it's quite simple, really – a change of labels and two line-up changes. After "Eight Ways", we parted ways with Peaceville, and Odd E. Ebbesen left the band. We recruited Patrick Scantlebury and wrote and recorded "RITAC" with him, but then he moved to the northern part of Norway. That meant that we had a recorded album, but we needed to find a new guitarist and a new label. So things took a bit of time, but everything sorted itself out eventually, and we're very much back on track!

MELODY LANE: Tell us something about the creative process of your music. Is there a main composer or we can talk about a team work? The songs come from ideas of a single member and then the band works on these ideas in the studio jamming together, or your songs are written in the studio and all the members compose together? And what about the lyrics?
AGNETE M. KIRKEVAAG: It's very much team work. Sometimes one of us has a very clear idea, and then we work from that, other times we start from a jam, but we always work together as a group, sitting together in a room. It takes an immense amount of time and energy, because we try to explore all the possibilities and the different ideas for arrangements, transitions etc. It's also very demanding on the interpersonal level, because presenting your ideas to others puts you in a very vulnerable position, and you need quite a lot of trust, patience and communication skills to make an intense collaboration like that work. But we've been working like this for years, now, and I think it gives the music something extra, even though it sometimes drives us crazy :) The lyrics are all mine. I usually start from figuring out what the song means to me, how it feels, and then I try to put words to that, and sometimes to craft sort of a universe for it. I'm quite a nerd, so I like playing with language, both with sound and meaning, but the most important part is how it works with the music. 

MELODY LANE: What are, according to your opinion, the main differences between your album "Eight ways" and your last album "Red in tooth and claw " ?  After time, are you totally satisfied with your choices about sound and the writing of both your albums? 
AGNETE M. KIRKEVAAG: I think "Eight Ways" is more dreamlike and introverted in some senses, while "RITAC" is more aggressive and direct, both in production and music. With "Eight Ways", we were doing everything ourselves for the first time, so we really indulged in experimenting with production details, back-up vocals, percussion etc, and had a lot of fun with it. For instance, for "Get That Monster Out Of Here", we recorded me rubbing two shoe brushes together to create a rainy sound … We also recorded my cat and the lid off our barbecue. As a result, "Eight Ways" is very detailed and produced, very layered. As a result, we wanted something a little different for "RITAC", we wanted it to sound more live, more like we do in the rehersal room, and we also wanted a rawer, more organic sound. Am I satisfied with our choices? Yes. I mean, it would usually always be possible to improve this or that detail in the overall sound, or get the balance between two guitars more perfect etc, but on the whole, I'm satisfied. When it comes to the music, we wouldn't have released it if we didn't feel like it was how it should be. We've never been the kind of band who looked back on what we did before and went "oh, this is crap, what we do now is so much better". Our music changes over time, which is natural, since we change and the world around us changes, but I'm still very proud of all our albums, and I still listen to them regularly. And I'm very happy to be playing some more songs from "Eight Ways" on this tour, since we never toured for that album! 

MELODY LANE: Could you list us 3 songs, from MADDER MORTEM discography, that  can define the sound of the band nowadays… 3 songs that can help our readers to know MADDER MORTEM at the best in this moment of your career.
AGNETE M. KIRKEVAAG: If you want what we're doing right now, you might try any three off the latest album :) If you're looking for a bit of history, sort of "how did you get to where you are now", I find this task very, very difficult. It's getting to be a long history, and I'm going to cheat and choose one song off each album …
I'd start with "Under Another Moon" from "Mercury", since that is actually one of the earliest Madder Mortem songs – it was included on our first CD demo, before making it on to the first album. I think you can easily draw lines from that song to what we do know – there are some of the same general approaches to music, transitions and tonality, though we are older and wiser, hehe.
Then I'd move on to "Breaker Of Worlds" from "All Flesh Is Grass" – that song defines the spirit of that album for me. We'd lost 3/5 of our line-up after the first album, and this is sort of how me and BP responded to that – I love the defiance, fearlessness and pure power of that song. And it also introduces Mads' way of thinking drums, which is absolutely not the standard metal way, and was to become extremely important over the years. 
From "Deadlands", I'd choose "Resonatine". There are more well-known songs from that album, but this one has a lot of typical features for MM: It's quite long (we like long songs), it has parts that is a reworking of an older idea, and it marries quite a lot of different styles of music and playing into one extremely emotional rollercoaster ride. And it means a lot to me personally, too. 
After that, I'd go for "Hangman" from "Desiderata". A lot of fans have reacted very strongly to this song, and it is very intense, and recording it was very intense, too. It's still a very personal and intimate song, and I think that is what makes it so powerful in a live setting, both for us and for the audience. From "Eight Ways", I'd like to choose "Resolution". There are more obvious choices ("Formaldehyde" or "The Eighth Wave" for pure Madderness, or "Armour" for a lovely chorus), but this is a different side of MM – a more ambiguous mood, and a different kind of tonality.  And I think it's a beautiful love song. Finally, from "RITAC", I have to go with "Underdogs". It's about what music means to us, and what it takes to be a part of something like that, and it has become sort of an emblem to us and our fans – we end all our shows with this song. 

MELODY LANE: In the next month you'll be on tour with SOEN, and in my opinion, for the fans,  SOEN+MADDER MORTEM is a "perfect pair". Two of the most interesting prog/alternative bands around, offering new, fresh and original music. What can you tell us about how this tour is born, did you know SOEN before?...and what do you think about SOEN and their music? 
AGNETE M. KIRKEVAAG: Yes, we'll be back on the road with Soen in October, and I agree, I think it's a brilliant band combination. We actually toured with Soen for 4 weeks in April this year, and we got a great reception from the Soen audience, so we're really exited to get back to that crowd! 
We've known Martin from Soen since 2003 – we toured with Opeth in Europe when he still played with them, so that's the connection, and then when we got the possibility and the timing worked, it was very natural to tour with them. They're great guys to share a bus with, and excellent musicians who take their music very seriously. Musically, I like Soen very much. I'd say I prefer their latest album, their development has been moving more and more into my taste in music, and I also like the production a lot. Touring with them was a pleasure in April, and I'm certain we'll have a great time this time around as well! 

MELODY LANE: Talking about the setlist of your tour …How did the audiences react to the live performances of the songs of your last album during the first leg of the tour in march/april? And for October… Will the setlist  be focused mainly on the last album or will it cover all your past albums? I' ll attend the show in Rome on 12 october…I really hope to hear Underdogs and Fallow Season, in my opinion real killer songs! 
AGNETE M. KIRKEVAAG: My impression is that it worked really well! As usual when you are a support band, it'll take a couple of songs before the audience kinda "gets it", but usually they seemed to get more and more into what we were doing as the set went, and that's what we aim to achieve, you know. The setlist will be focused mainly on the last three albums, since we never toured for "Desiderata" and "Eight Ways", and I can promise you that you'll hear "Fallow Season" and "Underdogs" :) 

MELODY LANE: And…could you tell us two bands, from the actual rock/metal scene, you'd like to tour with in the next future…? And why these bands? 
AGNETE M. KIRKEVAAG: I'd love to tour with the Devin Townsend Project, both because I love his music, and because I think we'd have something to offer to his fans. It would also be really cool to do something with other Norwegian bands, like Leprous, Vulture Industries (they're doing one gig with us and Soen on this tour, actually), Atrox, Ram-Zet … lots of great bands to find at home!
MELODY LANE: Which (bands) are/have been your main musical inspirations? 
AGNETE M. KIRKEVAAG: Hehe, that would be a long list, and spans most genres and several hundred years. As an example, one of the most important influences for me in the way that I arrange and plan back-up vocals, is probably Bach – grew up with tons of Bach on the stereo, which is probably why I often favour a fugue-esque style for layering of vocals. Other important influences are for instance: Sepultura and Metallica for riffing style. Axl Rose, Mike Patton, Chris Cornell, Dio and Annie Lennox for how to sing. Darkthrone, Neurosis and Arvo Pärt for ambience and intensity of feeling.  

MELODY LANE: Have you started writing new material for a next release? Have you got songs, written in the last years, that haven't been used for "Red in tooth and claw" that will be included in the next album? Any schedule for the next album? 
AGNETE M. KIRKEVAAG: We've actually written all the songs we need for the next album, we're just kinda deciding on which song will be the last we'll include. We don't usually really write for albums – we write all the time, and then when we feel like we've got a lot of material that's ready to be finalised, we start thinking in terms of an album and what would fit on that. The notable exception was "Deadlands", which had a bit of a conceptual vibe to it, even in the writing. Another aspect is that we rarely throw ideas out, we just kinda keep them on the back burner until we can figure out what to do with them. Some of the ideas in "Underdogs", for instance, are quite old, but for "RITAC" we finally managed to figure out how to get it right.  If we manage to follow our schedule, we'll start recording somewhere around Jan-Feb 2018, and hopefully have the album ready and out by autumn 2018. We need a long time period for the recording, since we do everything ourselves, and since we still need to keep a roof over our heads and bread on the table, we need to work around our work schedules as well. I'm very exited about the songs, so I hope we'll be able to stay in that time frame and get it out to the listeners as soon as possible. The album will be called "Marrow", and it'll be very Madder Mortem – everything at once! 

MELODY LANE: What has been your biggest achievement to date and what do you want to achieve in the near future?  
AGNETE M. KIRKEVAAG:  Easy: Keeping a band alive for all these years, staying in a place where we still strive to challenge ourselves musically, where we still care intensely about getting the song right. It's a lot harder than you might think, but I think we've been very fortunate. We started on a path where the only guiding principle would be what music we wanted to make and play, and we've never looked back. It can be very rough at times, to keep going means prioritizing in a way that people around you may not approve of, and it'll mean hard work and lots of expenses, but the saving grace has always been the music itself – when we play or write, we're reminded of why we do this. In the near future, I'd love to see this happen: Good reception from the audience on the upcoming tour, easy and relatively speedy recording of the next album, a bit of a boost in album sales, and a well-visited headliner tour of Europe next year. And if all that should come to life, we'd love to finally tour the US as well! 

MELODY LANE: in the end…a message from you to all melody lane readers. 
AGNETE M. KIRKEVAAG: We hope to see you on tour in October - come howl with the underdogs!