INTERVIEW
WITH
LOVE
RAZER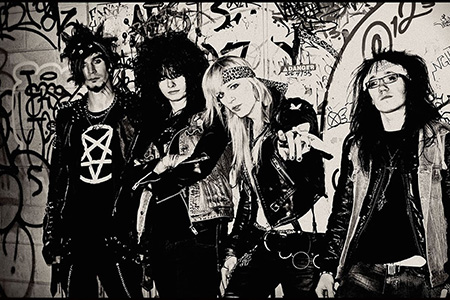 INTERVIEW WITH LOVE RAZER intervista di Daniele Pietrini


MELODY LANE had a very interesting interview with the "Canadian glamsters" LOVE RAZER! The young musicians, that in the last years shared the stage with famous acts such as as Enuff Z Nuff, Gilby Clarke and L.A.GUNS,  told us about the roots of their band, their love for 80s hard rock band and their plans for the future. 
Interview not to be missed!
MELODY LANE: Can you tell us where the name Löve Razër comes from? Who's the founder of the band?...And where are you from?
LOVE RAZER: The band name was originally thought of by our drummer CrissyStixx.  It was just Metal Mike, MickyBonez and CrissyStixx in the band at the time and we all took turns at rehearsal sharing our ideas for a band name, Bonez had the idea to spell Razer with an E instead of an O because "raze" means to destroy…so that was a no brainer.  The founders of the band were MickyBonez and Metal Mike.  Bonez had an ad online to start a tribute band, once we got that off the ground we decided to start writing and recording on the side…the rest is history.  We are from Windsor, Ontario (Canada)…right across the river from Detroit Rock City.
MELODY LANE: Which (bands) are/have been your main musical inspirations?
LOVE RAZER: We take a lot of inspiration from hard rock bands and 80s rock bands like MötleyCrüe and Guns n' Roses. We love having that raw and edgy hard rock sound in our music.

MELODY LANE: Let's talk about the line-up of the band. Is it the same from the beginning or have you had changes? The members in tour will be the same that played in the studio?
LOVE RAZER:  It was MickyBonez and Metal Mike who got things started.  Once they had a few tracks recorded, they reached out to CrissyStixx to play drums, he was on the fence at first as he was pretty busy with school..but then he heard the demo of "First class bitch" ( at the time known as "track 4" ) and was pretty excited about the whole idea.  Bonez and Mike tried about 5 different singers until Sydney Snow bursted through the door one day for a rehearsal..That was the day Löve Razër was officially born.  We are the original 4 and thats the way it will be when we play shows..It wouldn't be the same if we substituted any 1 of us for our live show.

MELODY LANE: Tell us something about the creative process of your music. Is there a main composer or we can talk about a team work? The songs come from ideas of a single member and then the band works on these ideas in the studio jamming togheter, or your songs are written in the studio and all the members compose togheter?
LOVE RAZER:  Usually but not always, the writing process will begin with MickyBonez developing guitar riffs for a song..He then will head to Metal Mikes to record a demo so we can send the structure/idea of the song to everybody else. After that Sydney Snow will write lyrics then Metal Mike and CrissyStixx will create the parts for their instruments and we will work together to make the arrangement sound right. Metal Mike has also been known to write lyrics and work on guitar parts to a song. Other times Sydney will write the lyrics before the music then figure out the chords to the song on guitar and send them to the rest of the guys and the guys will make it LöveRazër style. An example of a studio recorded song that was born like this is "All Time Sleaze" off of our debut EP "Rock N' Roll Addiction," and another song called "Too Hot To Handle" that will be on our upcoming album that is to be released sometime in the next few months.

MELODY LANE: What are going to be the differences between your first ep  "Rock 'N' Roll Addiction" and your future release?... After time, are you totally satisfied with your choices about sound and the writing of your first EP? 
LOVE RAZER:  The biggest difference is that our future release will have more songs on it then Rock N' Roll Addiction has. Many of the songs on our upcoming release were already written and being performed live when Rock N' Roll Addiction came out, we just didn't have the funds to release a full length album at the time. Another difference listeners may notice is that we have improved musically over the past year with writing lyrics and preforming. Yes we are totally satisfied with our first EP. We wanted to pick three songs that we felt painted an accurate picture of us and what we are about. 

MELODY LANE: Will you tour in Canada and in the States in the next future? Any chance to see LöveRazër here in Europe in the next future?
LOVE RAZER:  We definitely plan to play wherever we can. Detroit USA is right across the bridge from our home city and we definitely want to play there as soon as we are able. We would love to come to Europe. Right now it is not financially possible for the band, but the bigger we get the faster we will get there.

MELODY LANE:  How do you see and what do you think about the Glam/Street scene today? Motley Crue ended with great tours, Guns 'n' Roses and Aerosmith are doing sold out everywhere...Ratt, Poison and L.A. Guns are doing great with their reunion tours and new albums...But what about the new, young and emerging bands? Can you
suggest us any new good and fresh band raising?
LOVE RAZER: The glam/street scene today is definitely not what it was thirty years ago. The odds are kind of stacked against us right now when it comes to trying to be successful in the music industry, but what is popular in music is always changing. Rock  music will always have a great fan base and it is not un-foreseeable that rockstar type hard rock bands may end up back in the limelight. Those classic 80's bands have been doing great lately and I'm sure it is mostly because they have always had a great fan base and popularity but it could also be because people are wanting to see a shift towards more rock-stardom in their music, especially because it has been lacking in new music now for decades. It doesn't seem like the mainstream media has taken any of the new young and emerging bands of this genre under its wing yet, but once it starts it may be the beginning of a trend. A new band of this genre we would suggest is a Canadian band Löve Razër played a show with when we made a trip to Quebec. They have been around a bit longer then us but they are a great band and they are all nice dudes who welcomed us to their home city. Their band is called "Rusted"

MELODY LANE: Could you tell us two bands, from the actual GLAM/STREET scene, you'd like to tour with?... And why these bands?
LOVE RAZER: Guns N' Roses would be our first pick. That's kind of a no-brainer right? They are one of the biggest bands in the world right now, if not the biggest and they are a band we love that has had an influence on our music. Maybe Van Halen or any of the other classic hard rock/glam/street bands. The idea here is we would love to tour with some of the classic bands of the genre that have a huge following.

MELODY LANE: What has been your biggest achievement to date and what do you want to achieve in the near future?
LOVE RAZER:  Our biggest achievement to date would probably be in August of 2017 we played our first amphitheatre with "Hairball" for the charity event Hogs For Hospice. It was the biggest stage and biggest show we have ever played. We have also been fortunate enough to share the stage with acts such as L.A. Guns, Gilby Clarke, Enuff Z'Nuff, Anvil and Bullyboys.  We also won the 2016 Jack Daniels Supporting act contest which was a Canada wide competition, the grand prize was $7,000!
In the near future we want to get our next album out before 2018 and release another music video. Those are LöveRazër's two main focuses at the moment.

MELODY LANE: In the end…A message from you to all MELODY LANE readers.
LOVE RAZER:  We want to thank you for reading about us and checking us out on Facebook, YouTube, I Tunes or any other social media if you did or plan too. We also want to thank you for helping to keep rock n' roll alive!