INTERVIEW
WITH
TOMMY
WAGNER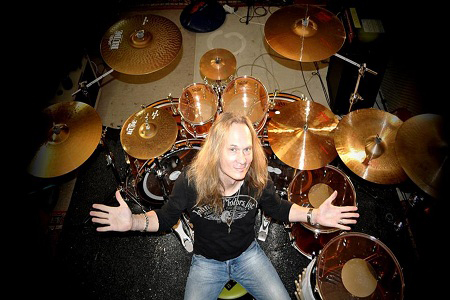 INTERVIEW WITH TOMMY WAGNER 
intervista di Daniele Pietrini
MELODY LANE had a very detailed and open-hearted interview with the great german drummer Tommy Wagner. Tommy told us lots of very interesting facts about his bands Shameless and  LustfingeR, his being  an "old school guy" and future plans.
Interview not to be missed!
MELODY LANE:Where are you from and where do you live nowadays?
TOMMY WAGNER: First of all thank you for your interest in me and my music, I really appreciate it! I was born in Munich, Germany, grew up there and still live there. I love my hometown! 
MELODY LANE: Which drummers are/have been your main musical inspirations? .. And which are your favorite bands nowadays?
TOMMY WAGNER: When I started playing drums in 1981 I was impressed by Ian Paice (by the time in Whitesnake). While being a hard hitter he'd always play tastefully with a swing and this unbelievable ability. Then, in 1982 Nigel Glockler joined Saxon and I was blown away by his power and energy. To me he is still the hardest hitter out there, I try to see Saxon live whenever I can. I'd say these two are my main influences, but there are of course other drummers that I like(d) a lot and influenced me ….  Robert Sweet, Nicko McBrain, Tommy Lee, Alex Van Halen …Well, my favorite bands today? There are some "old" bands that transport very well into today. For example the recent albums of Stryper don't sound dated at all. I think they still make great records. Same goes for Saxon. Every now and then a new band comes along that I like, like The Answer. My favorite "new" (if you want to call it that) band is The Dead Daisies. Brian Tichy is just awesome.You see, I'm really an old school guy 
MELODY LANE: Can you tell us something about your past. We know that you played briefly for BONFIRE in the '80s. How has your career started and how have you become a professional drummer?
TOMMY WAGNER: In the beginning everything went pretty fast. I started playing drums in 1981, played my first "gig" at a schoolparty in 1984, and only 3 years later I played to 20.000 people with Bonfire. Back then I was only 18 years old. Bonfire had just recorded their biggest album "Fireworks" in LA, where Ken Mary (by the time in the Alice Cooper Band) stepped in on drums. Back in Germany they needed a drummer. A friend of their manager saw me play in a club and recommended me. I auditioned and was hired to play some very cool shows and TV appearances. I even made it onto a poster in the german teen-mag Bravo which was quite a big deal for me, since Bravo was the best selling magazine in Germany back then.Next for Bonfire was touring Europe and the USA. As I said, I was 18 years old (about 10 years younger than most of the band), still in school and had my military/social service (obligatory in Germany at the time) still ahead of me, so they finally decided for someone else without other commitments to be the new permanent member. I can't blame them for that! I went on with my own band and did session jobs whenever I could. There's a video floating around where I'm on drums for the Canadian band Glasstiger who had a couple of hits in the 80s. I had started writing a lot and felt the need to sing my own songs, so I switched from the drums to the microphone. From the mid-90s on I released a couple of albums as a singer and songwriter. We toured in Germany, at times with big acts like Gary Moore or the Leningrad Cowboys. We even had something like a minor hit on a german sampler that sold pretty well. I rarely touched drumsticks during that time. Years later, as a returned favor for free studiotime, I agreed to the request of a good friend to play drums for a Christmas Metal show in Munich. I had set up my huge drumset from the 80s. The club was packed. The moment I sat down behind my kit I knew what I had missed so much over the years. I found that spark from the early years again (or it found me) and thank God it hasn't left me ever since!

MELODY LANE: Here on MELODY LANE we had the pleasure to have an interview with Shameless leader Alexx Michael. How did you get in touch and become friend with Alexx? How did you get the job as Shameless live drummer?...And  when, precisely, did you join Shameless?
TOMMY WAGNER: I got to know Alexx in 1987. We were both Kiss-fans (fan is an understatement for Alexx as you certainly know) and that got us connected. We were kind of in the same music scene but never made music together. We never lost contact over the years though. In January 2014 Alexx called and asked me to play the Beautiful Disaster Tour. Of course I agreed! He had seen me play before and thought my style would fit the band. Well, I guess he was right ;-)

MELODY LANE: List us 3 songs,  from the Shameless discography, that you like the most to play live in concert… And why these songs?
TOMMY WAGNER: I've got to say "Queen 4 a Day". It's a great song and it's fun to see the fans go crazy on this one. Then there is "You're not Cinderella". It's got a great heavy beat, just fun to play. I also love "How the story goes" from the new record "The Filthy 7". It's got that heavy stomping rhythm and seems to become a new fan favorite!

MELODY LANE: If I'm not wrong, last Shameless album " THE FILTHY 7", it's the first Shameless album you played on. Can you tell us something about the recording sessions of this album and some funny and interesting stories about the musicians involved in the recording sessions? Lots of very special 'guests' on it.
TOMMY WAGNER: That's right, it's the first Shameless album I played on. We recorded the drums, bass, BC's guitar parts and most of the backing vocals in November 2016 in Munich. In December Alexx took the files to Los Angeles to finish the album with Stevie Rachelle and most of the other musicians, with the exception of Frank Muriel who recorded his vocal tracks in his own studio in Las Vegas. I especially like the vinyl version on which the bonus tracks are handled by Kiss' Eric Singer. Eric is one of my favorite drummers today and it's very nice to be on a record with him.

MELODY LANE: During 2015 and 2016 you've become the drummer of the Cherie Currie band (The Runaways singer  solo band). You toured with her United Kingdom, Australia and New Zealand…What can you tell us about this experience? Are you planning to tour and play with her again in the future?
TOMMY WAGNER: I could write a book about those tours, we had a lot of fun. I have to thank Alexx Michael, he initially compiled the band and brought me on board. Cherie is great, she's a legend and still got this voice that blows you away. I learnt that at our first and only rehearsal one day before our first UK show. Magic! The most incredible thing to me personally happened at the second show we played in England. Minutes before the show Cherie asked me to share leadvocals with her on "Do you love me". I was flashed. I knew all those photos of Cherie with Lemmy, Slash, the list goes on. Everybody wants to sing with her and she invited me to do it. Our duett would remain in the set for all following shows, even so in Australia and New Zealand. Of course sharing the stage with another rock-icon Suzi Quatro as a special guest in London was out of this world, too! We recorded that show for the live-album "Midnight Music in London" which I'm really proud of. After the tour of England Cherie got the offer for the tour of Australia/New Zealand. She insisted on bringing the same band and I can't thank her enough for that! I had no idea how popular Cherie is in downunder. Fans awaited us at almost every airport and the response at the shows was unbelievable. I loved every minute of both tours. As far as I know Cherie has no plans to tour outside of the US in the near future. If she does I'd be more than happy to play for her again!

MELODY LANE: I read that you've become also the drummer for the german punk veterans LUSTFINGER. How did you get the job as their drummer? Are you now a permanent member of this band? Will you record on their next releases or are you working with them only as a touring member?
TOMMY WAGNER: Yes, I'm a full member of LustfingeR. A mutual friend, Jürgen "Bam Bam" Wiehler (drummer of Megaherz) recommended me to Tom Fock (singer of LustfingeR). In August '16 Tom Fock called me and asked whether I could play the next show because he didn't want to do the show with his old drummer. I said yes before it dawned to me that I had to learn 21 songs in about a week! I'm glad the show went great and I'm in LustfingeR ever since. Right now we're in the finishing process of the new album that's due in fall. It's produced by german producer Warthy who is known for his work with Eisbrecher, Unheilig and other major-acts. We have great new songs and the production is like nothing LustfingeR ever did before. We're really happy with it so far. We play some festivals this summer, more tourdates will follow the release of the album.

MELODY LANE:  Last Shameless concert in Rome was great. I was in the audience. Great live band, very solid,  with a great setlist. Apart from the stage, how's your relationship with the other guys in the band? Do you hang out and spend time together with your band mates when you are all in Munich? 
TOMMY WAGNER: Thank you, I have only the best memories of that show in Rome! Well, we don't hang out that much apart from preparing a tour or new songs. You know, all of us have family-lives, too. BC has another band in Munich, every once in a while we check out each other's band and hang out a bit. I've known BC for almost 30 years, we usually share a room when we're on tour and we're having lots of fun. I'm talking with Alexx on the phone regularly to keep us up to date or we meet at some concert. Alexx is very close with Stevie Rachelle (he lives in LA), they talk often from what I hear. 

MELODY LANE: Have you got also a "regular" job and different hobbies other than music, or music his 100% of your life? Is the same for the other members Shameless?TOMMY WAGNER: Music is my life! But I prefer to have the freedom to play the music I like and not needing to play with some TOP 40 band just for financial reasons, so I do some other art/music related stuff. For example, I recently edited Cherie Currie's latest concert-video "Live in London" for a DVD release. Most of the musicians I know can't make a living from touring or making records alone nowadays. 
MELODY LANE:  Have you got tour plans in the near future with your bands? Are you coming in  Italy? We know that maybe Shameless will tour in the fall…Is it right? Can you tell us a couple of bands you'd like to tour with from the actual sleaze/glam scene?
TOMMY WAGNER: I just returned from a festival in North Italy I played with LustfingeR which was great! I will tour with Shameless again in November/December. The shows are being booked right now and there definitely are plans for shows in Italy but I can't confirm any dates right now other than the tour ending with a show at the HEAT-Festival in Germany Dec 2nd. I think touring with Hardcore Superstar would be a lot of fun!
MELODY LANE:  And in the end a message to all MELODY LANE followers and readers…
TOMMY WAGNER: Before that, please grant me a word regarding my endorsing companies. This is not meant to be advertising but when you're not a superstar the support with musical equipment is even more important. So I'd like to thank Ludwig Drums Germany and Ice Stix Germany for the most awesome gear and their ongoing support! Finally, to all the MELODY LANE followers and readers: Thank you for keeping the music alive! I'd love to see you at one of our shows, please come by and say hello! Your support is highly appreciated!