INTERVIEW
WITH
MATS
WERNERSON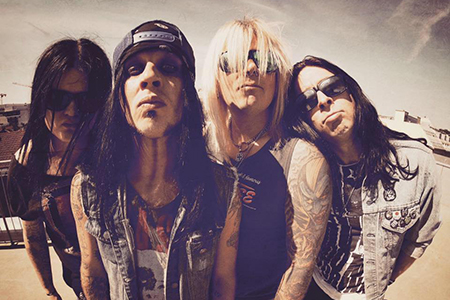 INTERVIEW  WITH MATS WERNERSON  intervista di DANIELE PIETRINI

MELODY LANE had a great interview with MATS WERNERSON Bassist of the CRUEL INTENTIONS. The band will play in London on August the 31st at the Lounge and At HRH Sleaze (September 3rd) with bands like Faster Pussycat, Sister and Crazy Lixx
MELODY LANE:  Can you tell us where the name THE CRUEL INTENTIONS comes from? Are you based in Oslo right?For what we know by the web, the ex-Vains of Jenna Lizzy DeVine is the founder of the band...is it true or the roots of band are others?
MATS WERNERSON: I came up With the name "Cruel Intentions", Im a big Nasty Idols fan! Lizzy added "The" and it sounded cool.We are based in Oslo right now. Lizzy lived in L.a and met a friend of mine who he feel in love With and moved back to Sweden With. I had not heard much of Vains, and had a feeling Lizzy was a douchebag (don't know why!)  but we hung out one day while his girlfriend was working and instantly clicked! He is the kindest and most humble person you'll ever meet. We said that we need to start a band the first time we met, and the rest is history.
MELODY LANE: Tell us something about the past of the members of THE CRUEL INTENTIONS, did they played in other bands before? Can you affirm that your line-up is stable and that the members that will tour will be the same that played in the studio?
MATS WERNERSON: Me and Kristian(lead guitar) have know each other for many years and played together in my first band Gotham Saints. Our first drummer Eiliv played on Our first 5 singles and left the band after almost 2 years, then we found Robin(drums) on Facebook and just had to have him. The current line-up is great and we sound great and like to hang out besides touring and rehearsals.
MELODY LANE: Which (bands) are/have been your main musical inspirations?
MATS WERNERSON:  We all listen to so many different bands. Robin is a huge King Diamond fan, and listens to black metal. Kristian is one of the biggest Guns n Roses fans I ever met. Some of my favorites are Shotgun Messiah, RATT and Hanoi Rocks. All in all I would say Hardcore Superstar is a band we all like and have been compared to alot.
MELODY LANE: What has been your biggest achievement to date and what do you want to achieve in the near future? 
MATS WERNERSON: Our first single Borderline Crazy went into the Top 10 of Swedens iTunes rock chart the first week, Then got picked up by Classic Rock Magazine's "Tracks of the week" That was a pretty good start! We started this year With headlining Rockmantic Weekender Festival in Carlisle and played Our first show in Scottland. There's been many cool moments the past 2 years and we haven't even released Our first album yet.
MELODY LANE:..After time, are you totally satisfied with your choices about the sound and the writing of all the songs that THE CRUEL INTENTIONS released up to date?
MATS WERNERSON:  Yeah I am happy With everything we have done. There's always room for improvment but With short deadlines and low Budgets you got to be creative and do what you can.
MELODY LANE: Tell us something about the creative process of THE CRUEL INTENTIONS music. Is there a main composer or we can talk about a team work? The songs come from ideas of a single member and then the band works on these ideas in the studio jamming togheter, or your songs are written in the studio and all the members compose togheter?
MATS WERNERSON: Me and Lizzy have written almost all songs together. One of us comes up With a riff or an idea and then we just Write and re-arrange until both are satisfied. Lizzy Writes lyrics and I produce the sound and style most of the times. Kristian and Robin adds there creative input later on. 
MELODY LANE: When can we expect to see THE CRUEL INTENTIONS on tour here in Italy?...Or at least in Europe?
MATS WERNERSON: We have been trying for so long to get to Italy, I know we have lots of fans there and really wanna GO! But there's always been something going wrong With the bookers or lack of time from Our side. I hope we get to tour Italy Next year!
We are playing in London on August the 31st at the Lounge and At HRH Sleaze(September 3rd) With bands like Faster Pussycat, Sister and Crazy Lixx. That will be a blast!
MELODY LANE: Could you tell us two bands, from the actual scene, you'd like THE CRUEL INTENTIONS to tour with in the next future…?
MATS WERNERSON:  Hardcore Superstar and Santa Cruz!
MELODY LANE: When can we expect a full-length from your band?
MATS WERNERSON:  The songs are done and ready, now we just wait for the right moment.
MELODY LANE: Have you got also a "regular" job and different hobbies other than music, or music his 100% of your life? Is the same for the other members of your band?
MATS WERNERSON:  I work a full time job and all my spare time goes into Music and the band. It can get pretty hectic but I like it that way. Im at the Office now and writing this interview so I do get paid sometimes haha :) We all have "regular jobs" because you can't live a decent life With just playing Music at this stage. But we are 100% committed to the band and put so much work and energy into the Music.
MELODY LANE: In the end…A message from you to all MELODY LANE readers.
MATS WERNERSON:  Support Rock n Roll and up and coming bands! Let all the promoters in Italy know you want us to play there and we will be there.
Peace out!