INTERVIEW
WITH
ERIK
FERENTINOS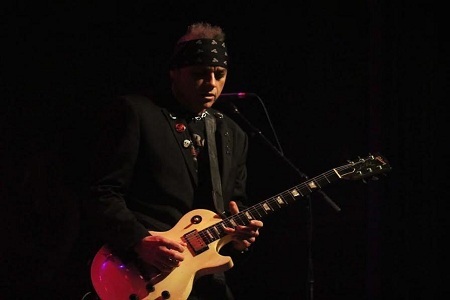 INTERVIEW WITH ERIK FERENTINOS intervista di Daniele Pietrini


MELODY LANE had a very interesting interview with Erik Ferentinos, lead guitarist of the Stephen Pearcy Band. Erik told us how he got the job as guitarist for "the voice of RATT" , and told us about his main influences, his band mates and how he and Stephen Pearcy write music together. 
Interview not to be missed!
MELODY LANE:Where are you from and where do you live nowadays?
ERIK FERENTINOS: I'm still living in San Diego, CA where I grew up.
MELODY LANE:  Which bands and guitarists are your main musical inspirations?... And which are your favorite bands nowadays?
ERIK FERENTINOS:Being a kid of the 80's I loved Eddie Van Halen, George Lynch and Jake E Lee...
MELODY LANE: Can you tell us something about your past bands Antidivision and Mad Architect? Are these bands still active and are you playing with them?
ERIK FERENTINOS: The Antidivision was a solo effort of mine in 2007. I tried to keep that going for a few years on the side, but it was difficult to find the right players. I haven't really done anything with it in over 5 years. Mad Architect was a studio project of Snowy Shaw from King Diamond.. I just played bass on that record. I was never in his band. 
MELODY LANE: How did you get in touch and become friend with Stephen Pearcy? How did you get the job as his lead  guitarist?...And  when, precisely, did you join his solo band?
ERIK FERENTINOS: Stephen moved in across the street from my parents in 1987. I was 15 and just started playing guitar back then. We became friends and he actually produced my 1st band "Voodoo" back then. In 2001 he needed a lead guitarist and he offered me the gig. Longest job I've ever had.. 16 years now!
MELODY LANE: List us 3 songs,  from the Stephen Pearcy's solo discography, that you like the most to play live in concert… and why these songs? Do you play live also any songs from the band Arcade? That was a great band!
ERIK FERENTINOS:We may add an old Arcade song now that Frank Wilsey is back with us.. I've enjoyed playing songs off of our new record "Smash". Ten Miles Wide , Want Too Much and Jamie have been fun to play. 
MELODY LANE:Talking about the other musicians of Stephen Pearcy's band, you have 3 expert and famous players: ex White Lion drummer Greg D'Angelo, ex Ratt and Rough Cutt bassist Matt Thorn and ex Sea Hags and Arcade guitarist Frankie Wilsey. How is working and recording with these guys in the studio and are they touring with you or you use to play with touring musicians?
ERIK FERENTINOS:It's been great. We're all friends and get along very well. I love working in the studio with Matt. He owns MT Studios in Burbank where we record most of the Pearcy stuff. 
MELODY LANE:If I'm not wrong, from the Stephen Pearcy solo album "Fueler" (2005) to the last one "Smash" (2017), you have been the only permanent member in Stephen's band. What's at the roots of this so long collaboration? What has Stephen found, in your guitar style or in your creativity, that made you become his loyal and omnipresent member?
ERIK FERENTINOS:I think "Under My Skin" was the last cd we put out before "Smash". On the past records Stephen wrote a good amount of the songs. With "Smash" I composed all the music and he wrote all his vocals. I think it works better like that. His fans seem to like it more than the older records. 
MELODY LANE: Can you tell us something about the creative process behind a Stephen Percy's solo album?  Is it a team work? Are you free to write and propose your music unconditionally?Do the songs come from ideas of a single member and then the band works on these ideas in the studio jamming together or are your songs written in the studio and all the members compose together?
ERIK FERENTINOS: With "Smash" I would send Stephen the music in it's entirety. He would then work on his vocals separately . When it came time to record it in the big studio, Greg came in and tracked real drums and Matt played the bass tracks. We never know what Stephen is going to sing until he shows up. He likes to surprise us lol. 
MELODY LANE:Many great and famous musicians played on the different Stephen's album in the years. I think about Keri Kelli, Scott Coogan, Teddy Zig Zag, Fred Coury…Can you tell us how's been working with these guys and, if you can, could you tell us any funny stories from being in the studio…The best moments…
ERIK FERENTINOS:The coolest thing was when George Lynch came in to play some solos on a Ratt tribute record we did called Ratt Attack. 
MELODY LANE: Any chance to see you playing live here in Europe in the near future? Any dates planned? What's next for the band? Will you tour after summer and in the fall?
ERIK FERENTINOS: I hope so! We have a new agent TKO that is working on solo dates for this fall
MELODY LANE: Can tell us 2 or 3 of the greatest concert you have played with Stephen in the years? The best ones, the memorable ones…
ERIK FERENTINOS: We've played many shows over the years..Most were on the club and theatre size circuit.. but occasionally we get to play some big events. Any arena shows we've done were my favorite.. The music just sounds better in that setting.
MELODY LANE: How do you see the Glam/Street scene today? Motley ended with great tours, Guns 'n' Roses are doing sold out everywhere...Ratt, Poison and L.A. Guns are doing great with their reunion tours and maybe new albums...But what about the new, young and emerging bands? Can you suggest us any new good and fresh band raising?
ERIK FERENTINOS: I think the 80's bands are still working because the music was more sincere. It wasn't made on computers. Most of the rock bands today all sound the same to me. We have some young friends in Las Vegas "Chaotic Resemblence" that have the old school look and sound.. Good dudes

MELODY LANE: In the end, a message to all MELODY LANE followers and readers…
ERIK FERENTINOS: A big thanks to everyone that picked up "Smash" this year! We appreciate you!!