INTERVIEW
WITH
TORSTEN
STEEL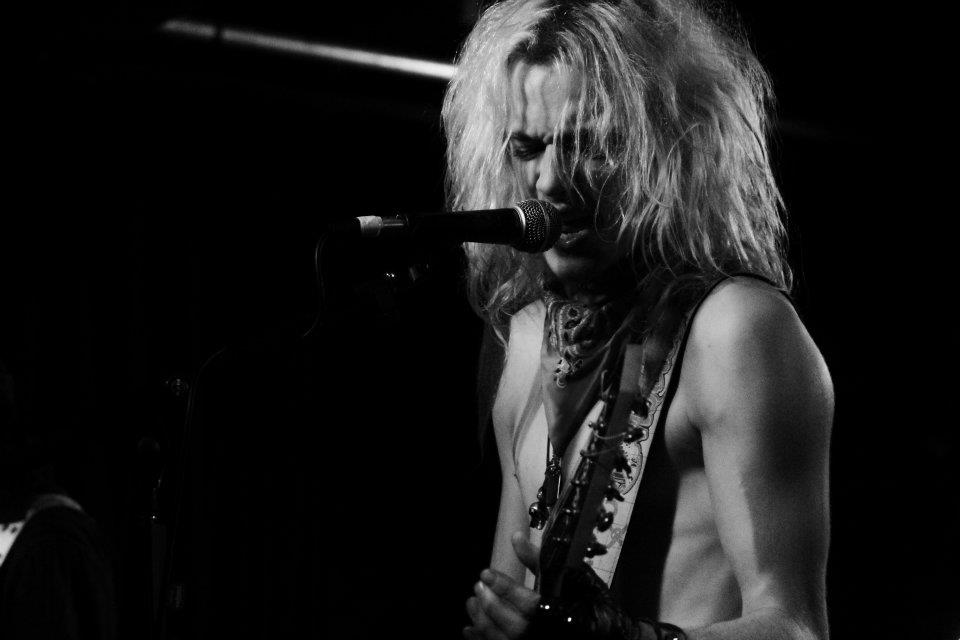 INTERVIEW  WITH TORSTEN STEEL intervista di DANIELE PIETRINI

MELODY LANE had a great interview with TORSTEN STEEL, leader of the LACED IN LUST. The glam band are from Adelaide (Australia). We could see them performing in Europe in 2018
MELODY LANE: Can you tell us where the name LACED IN LUST comes from? Who's the founder of the band and where are you from?
TORSTEN STEEL: We're all from Adelaide, South Australia.  Myself and Russell (drummer) were already playing in a glam band together, but we both weren't happy in the band and Russell left.  At the same time I was jamming with Vivian (guitar) in another project with myself on bass, doing a more 70's  English hard rock idea.
With Russell leaving I left very shortly afterwards. Things in the other band weren't serious which was not the direction myself and Viv (Vivian) were aiming for. So with Russell still wanting to collaborate with me and Viv, and myself wanting to really push a serious band, the three of us hopped into the jam room together and that was that. But of course we then needed a name....
We all were thinking of ''Laced in ......''. but wanted to add something that really reflected us not just as a band, but as individual people too. We very quickly and appropriately attached ourselves to the word ''Lust''. The way we looked, the way we played and our own current state of affairs with relationships and being young and wanting to jump everything we looked at fit the name perfectly.
MELODY LANE: Which (bands) are/have been your main musical inspirations?
TORSTEN STEEL:  For myself, Status Quo was the only reason I picked up a guitar in the first place. I wanted to be just like Rick Parfitt. Other bands I followed quite closely were Slade, Steppenwolf, Scorpions, Ten Years After, Lynyrd Skynyrd, Bon Jovi and so many many more. But in the last 8 years my main influence as a performer has been Jesper Binzer of D-A-D who are also, by far, my favourite band. 
MELODY LANE: The line up of the band is the same from the beginning or have you had changes. The members in tour will be the same that played in the studio?
TORSTEN STEEL: No, we've had changes along the way: original line up was -Torsten Steel, Vivian Jones, Robbie Jones and Russell Boyd.
Our current line up is: Torsten Steel, Vivian Jones, Oopie and Russell Boyd. The current line up is also the same as the latest release we have '' Lipservice'' and the European tour we just finished late last year.
Our original Bass player ''Robbie Jones'' played all four Australian tours since 2011, toured our first European tour in 2014 and was on our first 2 recordings ''Fire'' and ''Firing Lines''.  We also had ''Ryan Moore'' from Mid 2012 to early 2014 on Drums but Russell is on all recordings.
MELODY LANE: What has been your biggest achievement to date and what do you want to achieve in the near future? 
TORSTEN STEEL:  Well a few for myself. Being the main support for Status Quo in Switzerland probably takes the cake. It's not every day you play 12,000 seat areas with your idols. So that's defiantly no.1. But on the other side of things, to accomplish two totally self-funded and self-managed whole European tours like we did also hits home for me. 
MELODY LANE: List 3 songs, from the LACED IN LUST Discography, that can define the sound of the band … 3 songs that can help our readers to know LACED IN LUST at the best…
TORSTEN STEEL:  I would have to say 1) Lipservice, 2) Party's Over, 3) I'm Alone
MELODY LANE: Tell us something about the creative process of your music. Is there a main composer or we can talk about a team work? The songs come from ideas of a single member and then the band works on these ideas in the studio jamming togheter, or your songs are written in the studio and all the members compose togheter?
TORSTEN STEEL:  Myself and Vivian are the main composers . Some songs have just been Viv and some just me. But vast majority of our songs are normally, one of us having a piece of a song eg. a chorus or a riff or even a whole song and we'll take it to the other person to fix and finish it. We both compliment each other's work very well, as we both think totally opposite to each other too. 
MELODY LANE: What are going to be the differences between your first releases and the next full lenght? After time, are you totally satisfied with your choices about sound and the writing of your EPs "Party's Over" and "Firing Lines"? 
TORSTEN STEEL: I think an artist always looks back on their work and goes ''hmmm I should have done this" or "I'm not happy with that''. I guess it all comes from experience too.  Personally I'm happy with all of them for what they are too. I also like the show of growth the band has taken and the maturity in song writing also. Our very first single ''Fire'' has quite a rough recording, and is heavily sleaze orientated in comparison to ''Firing Lines'' which, showed an immense upgrade in song writing and studio work for us, and showed we could do a few styles of music also, to then go to my absolute favourite which is ''Lipservice'', which to me is the perfect balance of everything.
We are in the pre-production phase of recording our debut album now . You might see some old favourites on there, there will be some new ones, there could even be a cover, we don't know yet. But our aim is to make it bigger and better than all three of our last releases put together.
MELODY LANE: Will you tour in Europe again in the next future?
TORSTEN STEEL: Yes! Blueprint plans are already being drawn up for 2018 European Tour. We will keep you informed!
MELODY LANE: Could you tell us two bands, from the actual scene, you'd like to tour with in the next future…? And why these bands?
TORSTEN STEEL: I would say, ''Kissin Dynamite''(De), and ''D-A-D''(Dk). I would like to tour with both these bands not because I really like both, or that one is my idol (which does help), but to gain more knowledge of professionalism and longevity in the music realm.  D-A-D have been doing this for 30+ years, can still write a great album, still put on an amazing show, and can still hold on the workings together so tight knit. I feel there is so much to learn from them.  With Kissin Dynamite, they're a very well oiled machine, which has taken Germany by storm and they're doing very well elsewhere. Again they are very professional, and I feel that Laced In Lust could benefit immensely playing with a band that has pulled a lot of the younger generation out to Hard Rock shows again.
I will add a third also which would be ''Niterain'' (NO), because I don't think there'd be a more energetic, hard rocking rock show you could go to than Niterain and Laced In Lust together.
MELODY LANE: In the end…A message from you to all MELODY LANE readers.
TORSTEN STEEL: Keep enjoying your music no matter what it is. Thanks for your support of ''Melody Lane'' and thanks for reading and supporting us. We hope we can see you at one of our shows in Europe in 2018. Until then, keep supporting ''Melody Lane'' and keep enjoying their articles and posts on new bands and music out there that needs to be found!
Keep Rocking
Torsten Steel xoxo