INTERVIEW
WITH
DIDDI
KASTENHOLT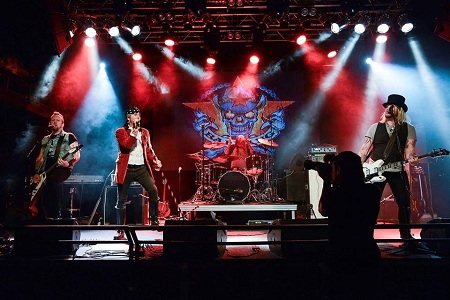 INTERVIEW  WITH DIDDI KASTENHOLT intervista di DANIELE PIETRINI

MELODY LANE had a great interview with DIDDI KASTENHOLT, leader of the swedish melodic rockers BAI BANG. Diddi told us about the new album ROCK of LIFE, his passion for golf and revealed us plans about the next tour that will bring BAI BANG here in Italy in the fall.
MELODY LANE:  First of all, It would be interesting to know the roots of the name BAI BANG. Can you tell us where the name BAI BANG comes from? We know it's a little city in Vietnam… But, why did you choose this name?
DIDDI KASTENHOLT: BaI Bang is also a papermill project from the Swedish government to help Vietnam back in early 80s. We had just mixed our first album and needed a new name for the band.  And i read in the newspaper about Bai Bang and thought this is a great name. Now a days no one thinks of the papermill.  Its BAI BANG the rockband. 
MELODY LANE:  Can you tell us something about the members of BAI BANG? Are all permanent members now? Which bands did they play in, in the past, before joining BAI BANG?
DIDDI KASTENHOLT: All are permanent members. Oskar Wennberg on drums.Christoffer Svensson on bass and Filip Wilhelmsson on guitar and me Diddi Kastenholt vocals.Sometimes Pelle Eliasson or Manuel Seone play additional guitar. In the past I have been playing in Boogie Liquor Band, Filip in Damien and Sinthia Doll and Christoffer in Famous Jameson and Royal Acid Orchestra.
MELODY LANE: BAI BANG's new album, "ROCK OF LIFE", was just released via AOR Heaven. How can you describe the album in general? Are you totally satisfied with your choices about sound and the writing of your last album? Which are the main differences with your past albums?
DIDDI KASTENHOLT: It's a classic Bai Bang album. Hard riffs,great melodies and big hooks. We are very satisfied with this album. All songs are potentially singles. Its a little more heavier than before perhaps. The writing has been very good this time too.
MELODY LANE:  Tell us something about the creative process of BAI BANG music. Is there a main composer or we can talk about a team work? The songs, also in the past, come from ideas of a single member and then the band works on these ideas in the studio jamming together, or your songs are written in the studio and all the members compose together?
DIDDI KASTENHOLT: I'm writing all songs together with our producer .Most of my songs comes from ideas that I geT.  Sometimes on tours . I record all ideas on my telephone then I play it to the producer and we check.  I'm always into a big hook in the chorus.  If we find there is we start working on it direct. Sometimes I have some lyrics that I think of. I write some lines down and then complete it to the music.. Mostly the music comes first and then I make the lyrics. But it can also be that I have a lyric done and put music to it. Fex Only the best die young. 
MELODY LANE: List 3 songs,  from the BAI BANG discography, that can define the sound of the band … 3 songs that can help our readers to know BAI BANG at the best 
DIDDI KASTENHOLT: It's so hard but if I have to...Rock it from Are you ready album. Everybody Everywhere from All Around the world album and Stop Messing around from Rock of life album. But there are many more that I like.
MELODY LANE: You played two shows in Italy in February. When can we expect to see BAI BANG on an headlining tour here in Italy again? Will you tour for promoting your new album in our country again in the next months?  And in Europe?
DIDDI KASTENHOLT: We will come for sure in fall. I think in October. We will do a lot of promotion over the summer. 
MELODY LANE: Could you tell us two bands you never played together with and you'd like BAI BANG to tour with in the next future…
DIDDI KASTENHOLT: oh that's hard. So many bands out there. Any band major or minor.  We love to play live and have a good time. 
MELODY LANE: As a singer, which (bands) are/have been your main musical inspirations?
DIDDI KASTENHOLT: I loved T-Rex. But bands like Bon Jovi, Aerosmith and Whitesnake are great bands.
MELODY LANE:  As a band, lots of great things happened for you in the last years, so what has been your biggest achievement to date and what do you want to achieve in the near future?
DIDDI KASTENHOLT: We played in front of  100 000 people in Estonia.  That was amazing. But to return to Japan and play would be great.  The album will soon be released there too. 
MELODY LANE: BAI BANG will play at the HRH SLEAZE FESTIVAL in Sheffield in September. In the line -up we can read glorious and historic bands like FASTER PUSSYCAT, TYLA's DOGS D'AMOUR,VAIN and TIGERTAILZ, but also many bands of the "new generation" like CRAZY LIXX, SISTER, THE CRUEL INTENTIONS etc…So what do you think of the new scene and of all the new bands coming from Sweden, I'm thinking also about HEAT, ECLIPSE…and many others.    
DIDDI KASTENHOLT: They are great bands. Sweden delivers good bands.HRH WILL be great. We will also play Wacken Open Air in Germany on August 3.
MELODY LANE: Something about your life: who is DIDDI KASTENHOLT when he's not playing with BAI BANG? Have you got also a "regular" job and different hobbies other than music, or music his 100% of your life? Is the same for the other members of BAI BANG?
DIDDI KASTENHOLT: All have jobs beside. Me myself works as a teacher for young people that has certain needs and diagnostic. Its a great job and it feels good to be able to help those guys with their problems. I do have a great hobby. ..I play golf.  Been sponsored by Callaway golf for many years. Alice Cooper is also endorsed by the same company.  We went on a great tour together some years ago. We talked a lot about golf. But music is the main part of my life. Its always on my mind. Btw...I Love to party!!The first to come to the bar and the last to leave! Haha 
MELODY LANE: …And in the end, a message to all MELODY LANE readers and followers…
DIDDI KASTENHOLT: We really hope to see you soon again! We hope you will enjoy the album Rock of Life. Take care. Rock on &Rock it