INTERVIEW
WITH
SISTERS
DOLL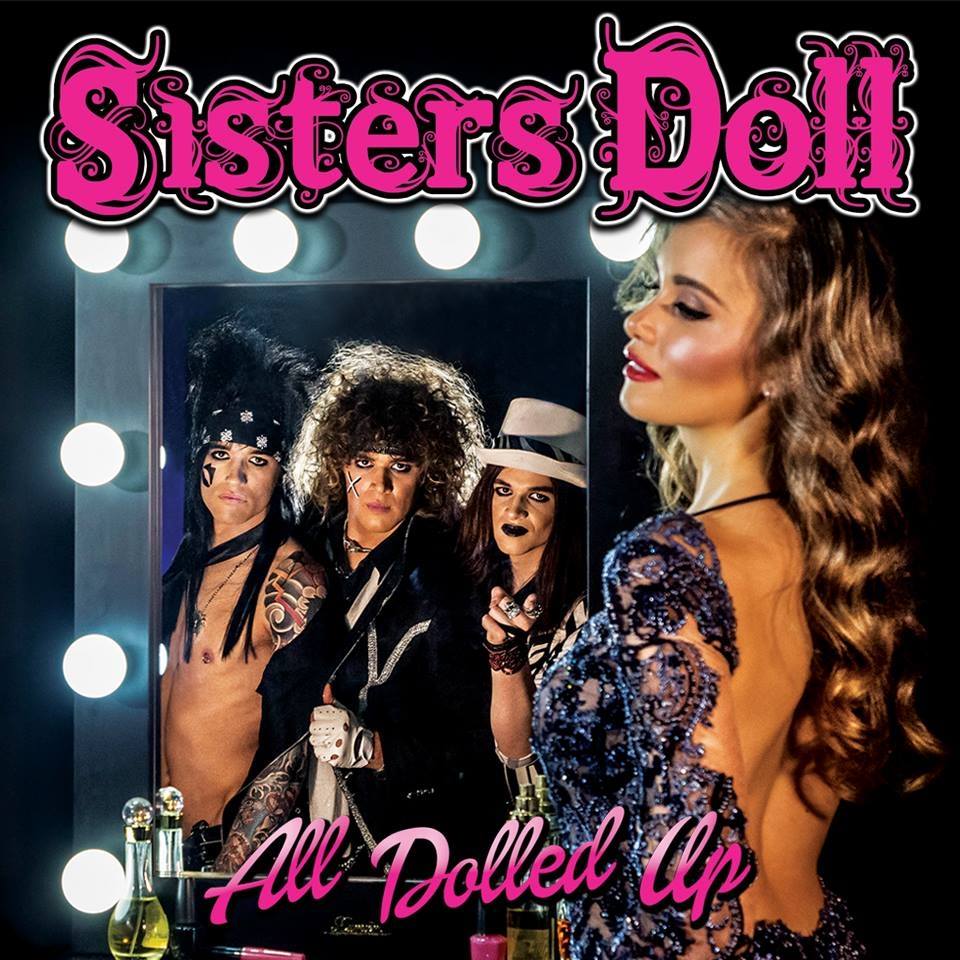 INTERVIEW WITH SISTERS DOLL  intervista di DANIELE PIETRINI


MELODY LANE had an interesting interview with the australian glamsters Sisters Doll. THE GUYS FROM MELBOURNE TOLD US ABOUT THEIR INFLUENCES, THEIR NEW ALBUM AND THE GREAT opportunity to play alongside Legendary hall of fame KISS drummer Peter Criss for his final 2 shows ever.
MELODY LANE: Hi guys! Can you tell us where the name Sisters Doll comes from? Who's the founder of the band and Where are you from?
SISTERS DOLL: The name Sisters Doll comes from all of us sitting around the computer one night and all three of us were looking up old band logo's and we came across the "Twisted Sister" logo and the "New York Dolls" logo and I just blurted out what about Sisters Doll and we all liked it enough to keep it. Because we are all brothers too we thought it was a pretty cool cliche being a band of brothers but the band is called Sisters Doll.
MELODY LANE: Which (bands) are/have been your main musical inspirations?
SISTERS DOLL: As a collective our musical inspirations have been KISS. For as long as we can remember our dad was and still is a huge KISS fan so we grew up with KISS posters on our walls and KISS music in our blood. But it wasn't only KISS that caught our attention dad use to listen to everything from Budgie,Firehouse, Motley Crue, Van Halen, Magnum, Aerosmith & Alice Cooper just to name a few. The old school 70's/80's music has always been our inspiration from a young age and its in our blood. 
MELODY LANE: The line up of the band is the same from the beginning of the band or have you had changes. The members in tour will be the same that played in the studio?
SISTERS DOLL: Yes the lineup has never changed from the start to now and we have been going strong for 7 years. Being brothers it always makes it a little easier, I mean we all have our band fights and the politics that comes with being in a band but we all love each other and are happy to be making music together. The three of us play everything you hear on both Sisters Doll album's and when we go out and tour nothing changes it's all three of us giving our all for the fans (Dolls) to put on the best show possible musically and visually. 
MELODY LANE:  What has been your biggest achievement to date and what do you want to achieve in the near future?
SISTERS DOLL: We have just landed the opportunity to play alongside Legendary hall of fame KISS drummer Peter Criss for his final 2 shows ever. We will be his backing band and we are honoured to have this opportunity. We will be doing 2 shows one in Melbourne Australia and one in New York in June 2017. We will also be going out on Tour with Legendary Kiss Guitarist Bruce Kulick on his Australian tour for 2017.Our Ultimate dream would be to sell out Madison Square Garden because from young kids that has always been our dream and if we make it to the garden we know we have finally made it haha.
MELODY LANE: List 3 songs,  from the Sisters Doll Discography, that can define the sound of the band … 3 songs that can help our readers to know Sisters Doll at the best…
SISTERS DOLL: We believe these 3 song's best defines the sound of the band Sisters Doll.
Good Day to Be Alive - All Dolled Up
Young Forever - All Dolled Up
Dollhouse - Welcome to the Dollhouse
But we suggest you go and buy both albums and choose for yourself. Only joking it was a good sales pitch though haha :)

MELODY LANE: Tell us something about the creative process of Sisters Doll music. Is there a main composer or we can talk about a team work? The songs come from ideas of a single member and then the band works on these ideas in the studio jamming togheter, or your songs are written in the studio and all the members compose togheter?
SISTERS DOLL: Usually within Sisters Doll because we are all brothers we all know what we are going for and the direction we want the band to follow. Normally it will start from one persons idea and build from there. Generally Brennan (B.Monroe) does all the lyrics and melody lines but as for the music side of things one of us will come up with an idea and we will work on it together in our band room and get a rough structure down and continue to make the song the best it can be.
MELODY LANE:  What's the difference between your first album "Welcome to the Dollhouse" and the new album "All dolled up"? After time, are you totally satisfied with your choices about sound and the writing of your debut album?
SISTERS DOLL: Obviously with your first album you get excited and want to record everything and anything and all you want to do is have a product in your hand to show everyone. We are very proud of the first album because we believe it was the start of something great. Obviously we were all in our early teens when we wrote and put out the first album so in a lot of ways its a young sounding album lyrically and musically. Although in the last 4 years we believe we have grown as a band musically and lyrically and the new album "All Dolled Up" is a step in the right direction and we feel it shows a huge progression from "Welcome to the Dollhouse" and we are so proud of this new album. In all honesty we are proud of both albums and we cant wait to continue to write more so we can keep this crazy Dollhouse ride going.
MELODY LANE: Will you tour in Europe in the next future?
SISTERS DOLL: Europe is definitely in our sights we were hoping to get there this year although we have just landed the opportunity to Be Peter Criss's backing band for his Australian and New York final show's. We will be heading to New York and America in June this year with Europe being on the cards for hopefully early - mid 2018.
MELODY LANE: Could you tell us two bands you'd like Sisters Doll to tour with in the next future…? And why these bands?
SISTERS DOLL: Definitely KISS because as a collective KISS were such a huge inspiration to us and we would be honoured and humbled to support them. Our dreams would be conquered if this happens.
We would also love to support Poison since they have just reformed. We believe we are a lot like poison in a lot of ways and we would love the opportunity to play and support them on a full tour and keep rock alive for our generation. 
MELODY LANE:  In the end…A message from you to all MELODY LANE readers.
SISTERS DOLL: Thanks for Listening Melody Lane readers you all rock and we hope to see you in Europe soon. We hope you love the New album "All Dolled Up" as much as we loved recording it, spread the word about us, crank it up and we will see you all soon Europe Dolls. Make sure your ready to get "All Dolled Up"!!!! Love Always Sisters Doll.