INTERVISTA
A
MONA
MILUSKI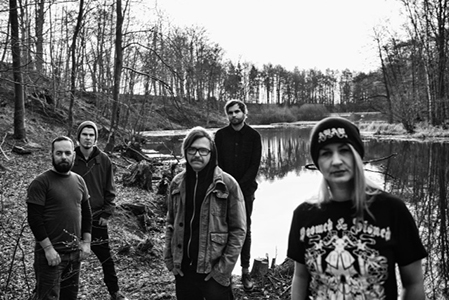 INTERVISTA A MONA MILUSKI  DEGLI HIGH FIGHTER  Intervista di DANIELE PIETRINI


INTERVIEW AVAILABLE ONLY IN ENGLISH 
MELODY LANE had a interview with MONA MILUSKI, singer of the  band HIGH FIGHTER. 
MELODY LANE: Can you tell us where the name HIGH FIGHTER comes from? Who's the founder of the band?
MONA MILUSKI: High Fighter has been formed in the summer of 2014, by former members of A Million Miles and Buffalo Hump. There wasn't just one main founder of the band, High Fighter is more a fusion of two half bands. Christian and me were members of A Million Miles, until this band split up in early 2013. A year later we decided to start a new project, when we got joined by Ingwer on our lead guitar. He was playing in Buffalo Hump, but they had no singer to that date, but a bassist and drummer left. So he brought his longtime band mates Constantin and Thomas into our new band, and the first moment we have met and started jamming, High Fighter was born. It even became more than just a band for us, over the past years it became a family.
It's been Thomas who came up with the band name. We're all big Star Wars fans, and he once somehow mentioned the name Tie Fighter, when Constantin first understood 'High Fighter'. We realized, that would be cool band name, sounds very powerful, strong and probably unusual for the style we play. We cannot tell you who that high fighter is, but he or she can be created in your very own imagination and what you feel a high fighter could be for you....
MELODY LANE: Which (bands) are/have been your main musical inspirations?
MONA MILUSKI: Well, we mix a lot of styles we personally dig, and try to combine them into one sound. We're all very open-minded when it comes to music, and listen to several music genres and bands, from Metal, Blues, Rock n Roll, Desert Rock to Sludge or Doom. No matter if it's been bands such as Kyuss or Pantera we feel inspired by, we're more influenced by the various styles we listen to, and try to always stay open minded when it comes to our songwriting. Our mix of styles may confuse a listener in the beginning, as you will find many genres in our music, but also makes it more special to us and mainly we're pretty much inspired by the blues, rock, doom and stoner. There is no strict rules for us when it comes to singwriting, we just let it happen and do not even try to belong to any specific genre and scene.
MELODY LANE: The line up of the band is the same from the beginning of the band or have you had changes. The members in tour will be the same that played in the studio?
MONA MILUSKI: High Fighter has never had any line-up changes. Not live nor in the studio. We're a strong unit and celebrate a band family vibe since our beginning.
MELODY LANE: What has been your biggest achievement to date and what do you want to achieve in the near future?
MONA MILUSKI: I think, our biggest achievement so far and in general has been, that we are simply lucky to have managed to tour so much like we did over the past two years. We already shared the stages on tour with bands such as Ahab, Mammoth Storm, Elder, Crowbar, Corrosion of Conformity or The Midnight Ghost Train alongside many more, toured Europe including a few UK shows as well as having played great festivals such as Stoned From The Underground, Desertfest Berlin, Summer Breeze, Up In Smoke or Sonic Blast in Portugal to name just a few. Being out there on the road, is always very special and an achievement for us, as we love to celebrate just a good time on the road and play live. We look forward to heavily tour in the future as well, probably one of the next great milestones for us will be a tour with Conan coming up in March, as well as our show at this year's Wacken Open Air. 
MELODY LANE: List 3 songs,  from the HIGH FIGHTER discography, that can define the sound of the band … 3 songs that can help our readers to know HIGH FIGHTER at the best…
MONA MILUSKI: I suggest to listen to both our records like diving into an entire trip, I more see each record as a full picture. But if I would have to name 3 songs only to get some impression, it would probably be '2Steps Blueskill' from our first EP 'The Goat Ritual' we self-released in 2014, as well as 'Gods' and the album title track from our debut album 'Scars & Crosses', we just released in summer 2016 on Svart Records. It's not easy to put us into any category and it's hard to describe our music with one style, as you will find a lot more in our tunes. From the blues, to metal, desert rock, sludge, doom and even hardcore elements. We just let it happen and don't try to fit into one genre only. 
MELODY LANE: Tell us something about the creative process of HIGH FIGHTER music. Is there a main composer or we can talk about a team work? The songs come from ideas of a single member and then the band works on these ideas in the studio jamming together, or your songs are written in the studio and all the members compose together?
MONA MILUSKI: Our songwriting definitely happens in teamwork, we're pretty much a jam band. There's no main composer. We heavily jam, record new tunes in our rehearsal space, and due to the recordings, everyone can listen to new ideas at home and bring new input on a song we currently work on to the next rehearsal. Usually someone comes up with a cool riff and we simply start jamming, let it happen and go with our own creative flow.
MELODY LANE: What's the difference between your Ep "The Goat Ritual" and the new album "Scars & Crosses"? After time, are you totally satisfied with your choices about the sound and the writing of your releases?
MONA MILUSKI: I think one of the biggest differences between both records has been, that we got the chance to tour and heavily play live after we released 'The Goat Ritual' back in 2014. When we recorded this EP, live and on one weekend in our rehearsal room, we never stood on a stage together as High Fighter. But right after its release, we started touring a lot, but also started to write new songs for the album. We already played a bunch of the album songs live and before we hit the studio to record them, so the songs had the chance to grow with us a band live on stage. I think that playing live as much as we did since 'The Goat Ritual', really got us together as a band in first place, and this also heavily influenced our sound and the songs for the album. Both records do have in common, that they both have been recorded live. But for our album 'Scars & Crosses', this time we chose a studio, not our tiny fucked up rehearsal space. 'Scars & Crosses' has been recorded live at Rama Studios in Mannheim, Germany, with Jens Siefert, and got mixed and mastered by Toshi Kasai ( The Melvins, Big Business).
While 'The Goat Ritual', and I still love this record, has been very rough and our first release as a just formed band, the followed album 'Scars & Crosses' feels we got together as a band and found our sound due to many shows and tours we could luckily play after 'The Goat Ritual'. Still very proud on both records, we're stoked how they both turned out and how they got very warm welcomes from the public and the scene.
MELODY LANE: When can we expect to see HIGH FIGHTER on tour here in Italy? On march you'll be on tour in Europe but no dates in our country
MONA MILUSKI: We played one show in Italy only so far, that's been last Fall and a blast for us, but we would LOVE to play way more shows in Italy! We hope to make it happen more than soon.
In March we will be touring with Conan, Downfall of Gaia and Hark, we're very looking forward to it, followed by some festivals this year such as Wacken, Malta Doom Fest and a few more. But hopefully we will hit Italy again soon, would be rad.
MELODY LANE: Could you tell us two bands you'd like HIGH FIGHTER to tour with in the next future…
MONA MILUSKI: Me personally, I always wanted to go on tour with Conan, am a big fan of their music so I am stoked that they invited us to their March tour. I would also love to repeat a tour with our dear friends in Ahab and Mammoth Storm, great bands and friends we toured with in the end of 2015. But well, there is so many bands out there we would never say No to tour with, let's dream a bit and I'd say to support bands like The Melvins, Monster Magnet, EyeHateGod, Down, Red Fang or a proper tour with Crowbar, would be some dream come true. But a list of bands we would love to tour with could go on like forever...
MELODY LANE: In the end…A message from you to all MELODY LANE readers.
MONA MILUSKI: Thanks for your support Melody Lane, stay high and hopefully seeing you more than soon in sunny Italy!
www.highfighter.de
www.facebook.com/highfighter
www.highfighter.bandcamp.com
www.svartrecords.com
Darkest Days - Official video:


https://www.youtube.com/watch?v=apMW_u2v8rs
Blinders - Official video:
https://www.youtube.com/watch?v=3mVD5kl42QI