CAPTAIN
BLACK
BEARD
-
NEON
SUNRISE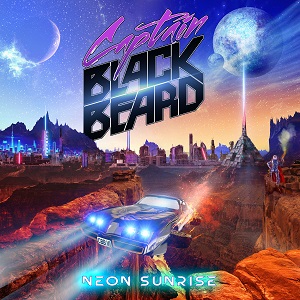 CAPTAIN BLACK BEARD - NEON SUNRISE (MIGHTY MUSIC, 2022)
"...your love for AOR and Melodic Hard Rock will boil once again in your blood!!!..."
Genre: AOR / Melodic Hard Rock
Rating: 8,5/10
With Neon Sunrise, Captain Black Beard return in terrific form with a fresh and sparkling songwriting. A top-notch album, a comeback with flying colors and showing the state of grace the band is in, hardly missing a beat in these eleven compositions: they are unstoppably and deservedly heading for a place in the Olympus of melodic hard rock alongside compatriots H.E.A.T and ECLIPSE. Able to mix with electrifying energy and catchiness the lessons of the various masters of the genre such as Europe, Foreigner, FM, Whitesnake, Journey, Bon Jovi and Def Leppard, Captain Black Beard give us a precious gem of Melodic Hard Rock, and we can thus delight in an extraordinary roundup of hits characterized by immediate and exhilarating refrains, melodic and ultra catchy vocal lines (while never coming across as tacky or cloying), excellent guitar work and a very solid rhythm section. The production is really of the highest level, perfect for this style of music, because it manages to enhance every single instrument, guaranteeing compactness to the sound and amplifying at the same time the sense of continuity and involvement that holds together all the tracks of the album. Talking about the individual tracks is practically useless; the song-writing of each track is so top-notch that it is truly impossible to find any moments of inflection while listening and, if you love this kind of music and you are a fan of any of the bands I mentioned above, trust me, you will not be able to skip a single track and, as soon as you get to the end of listening to this album, you will immediately want to push the 'play' button again. The beginning of the album is spine-tingling with sizzling dynamism of the killer combo FLAMENCO and WE ARE THE FORGIVEN both involving and engaging, followed closely by the energetic PHYSICAL with falsetto vocals, a heart-stopping guitar solo and anthemic chorus... the chorus of WASTED HEART and NIGHT REACTION will get into your head and will hardly get out...CHAINS OF LOVE and MOMENT OF TRUTH are majestic and pompous to the right point, with wonderful 80s carpets of keyboards supporting Martin Holsner's beautiful vocal lines.  BURNING DAYLIGHT is an enthralling Hard Rock ride with beautiful guitar solo and double bass drum pedal backing a spectacular chorus that you will sing for weeks headbanging in your car. We then come to the album's authentic masterpiece, a track that for personal taste I vote by far the best track on the album : BREAK (INTO FOREVER). A touching mid-tempo that takes no prisoners, with elegant and suffered singing, the bass in the foreground, lightning-fast guitar solo, wonderful countermelodies and choruses and then Holsner's powerful and scratchy voice...simply sublime. INVINCIBLE is an explosive mix of AOR and HEAVY METAL, with really punchy bass work and crushing drums that gives the song a pace at the limit of POWER METAL. We then come to the finale that also represents the only flaw of this album, namely the two closing tracks that are somewhat the only sluggish and less brilliant moment of the work. STATE OF DENIAL, is perhaps the least successful track of the setlist, characterized by a somewhat predictable songwriting and a too weak chorus, and then the one-and-a-half minute Outro, entitled NEON SUNRISE, which is frankly negligible. Had it been capped at ten tracks it would have been a perfect album. In any case, with NEON SUNRISE, CAPTAIN BLACK BEARD stand at very high levels and, while by no means being 'alternative' or fearless experimenters, they prove that they can move in a modern and unabashedly infectious way within the perimeter of MELODIC HARD ROCK. NEON SUNRISE is definitely a candidate to be one of the best records of this 2022. Welcome back CAPTAIN BLACK BEARD and a hundred of these records. Congratulations!


- TRACKLIST:
1. Flamenco
2. We're The Forgiven
3. Physical
4. Moment Of Truth
5. Wasted Heart
6. Night Reaction
7. Chains Of Lov
e 8. Burning Daylight
9. Break (Into Forever)
10. Invincible
11. State Of Denial
12. Neon Sunrise
- Line-up:
Christian Ek - guitar
Martin Holsner - vocals
Daniel Krakowski - guitar
Robert Majd - bass
Yngve Strömberg - drums
Article by: Mike Matty
WEB: https://www.facebook.com/CaptainBlackBeardBand